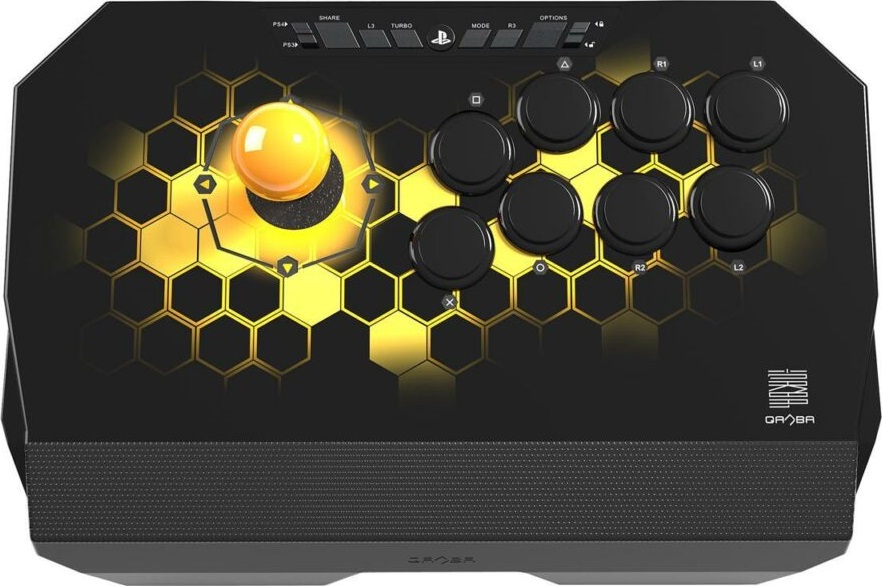 | | |
| --- | --- |
| Price | Amazon |
| Release | June 26, 2016 |
| Compatibility | PS5 / PS4 / PS3 / PC |
| Dimensions | 14.0" x 6.0" x 9.5" |
| Cable | 2.29 m |
| Weight | 2.60 lbs |
Quick Facts
Present is a tournament lock switch.
LED indicators are present.
There is an anti-slip bottom pad.
A unique USB cable compartment is featured.
This a prequel to the Qanba Drone 2.
Performance
Although light, the N2 Drone Joystick Arcade Fighting Stick has enough weight not to move around on your lap unless you are the aggressive type. It is also worth noting that the Drone does not sacrifice comfort for compactness as the buttons and joystick are spread apart comfortably. The buttons and joystick feel okay, but they do seem to be on the looser side. It is easy to feel that the unit is plastic and not that sturdy. On the bright side, the buttons barely make any sound. There was no input lag detected during the testing of this product.
Hardware
Fans of bigger arcade sticks will likely find this arcade stick to be too small. However, for the average player, the size might be perfect considering the compact approach. In any case, it is undeniable that this unit is quite the delight to travel with. Instead of a closed USB compartment, there is space underneath the wrist space. Although Qanba probably thought it would be revolutionary, the classic compartment's convenience seems unparalleled in comparison. Buttons aside, modding the joystick can be a challenge.
Appearance
While the black and yellow color scheme is refreshing to see on an arcade stick, and it will surely stand out among the masses. Seemingly, the only option to replace the artwork is to stick some vinyl up top. You may be interested in our custom artwork service.
If you would like a hand-drawn illustration fitted for your Drone, our artist, Gilbert Han, can do that for you. Check out his Chun-Li drawing with the Drone's template on top:
Conclusion
Qanba's only mini fightstick contribution to the generation could be a bargain depending on what you are looking for.
Truly portable
Convenient layout
Looser parts
Plastic feel
Rating
⭐⭐⭐⭐⭐
Links