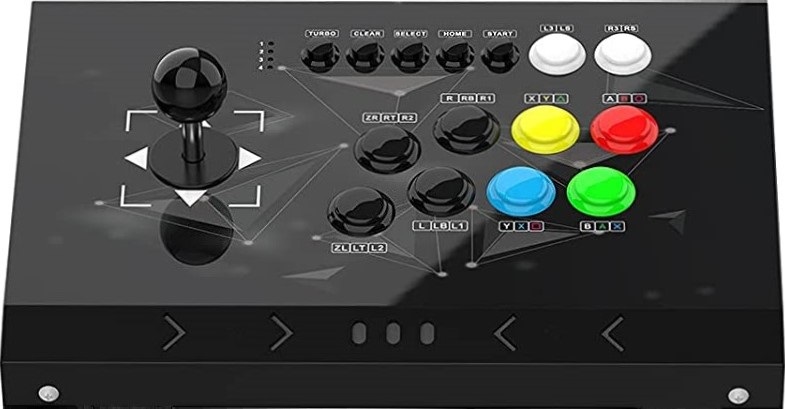 | | |
| --- | --- |
| Price | AliExpress |
| Release | November 30, 2020 |
| Compatibility | NS / PS3 / PSC / PC / RPi / Neogeo Mini / Android |
| Dimensions | 16.9″ x 10.6″ x 4.6″ |
| Cable | 3 m |
| Weight | 6.8 lbs |
Quick Facts
There is a turbo button.
A USB to USB-C adapter is included for better compatibility.
Performance
The KT511 Arcade Game Joystick is a satisfyingly heavy and durable arcade stick that can sit on your lap, a table, or clamp onto a surface. You will likely notice that the joystick is quite audible, which is good for those who prefer the auditory feedback and bad for those who are easily disturbed, especially if they do not like for their inputs to be given away. The same applies to the buttons. They almost sound like keyboard buttons. Furthermore, the joystick feels smaller than average, although the overall latency seems nonexistent. Finally, the rubber feet are an appreciated addition, but they feel too thin to function well. At least the arcade stick is heavy enough to keep the unit in place.
Hardware
This is a plug and play arcade stick. The clamps are plastic, however, and avoid tightening them too much or else they might break. The joystick and buttons do not feel as durable as a state-of-the-art arcade stick, and the joystick may even unscrew if you are the aggressive type. So, consider tightening it up before your first game session. If you are concerned about the joystick, replacing it with your own should be easy. In fact, accessing the interior of the entire arcade stick is easy as the screws outside are quite accessible.
Appearance
The top plate is metal, and although a lot of the unit is plastic, it does not feel cheap, which is aside from the clamps. As for the buttons, they are color coded and marked well. The artwork is minimalistic and pleasing to the eye.
Conclusion
The clamps of this arcade stick are perhaps the star of the show, but they are not flawless.
Weighty & durable
Innovative clamps
Accessible & compatible
Fragile clamps
Noisy apparatus
Thin pads
Rating
⭐⭐⭐
Link