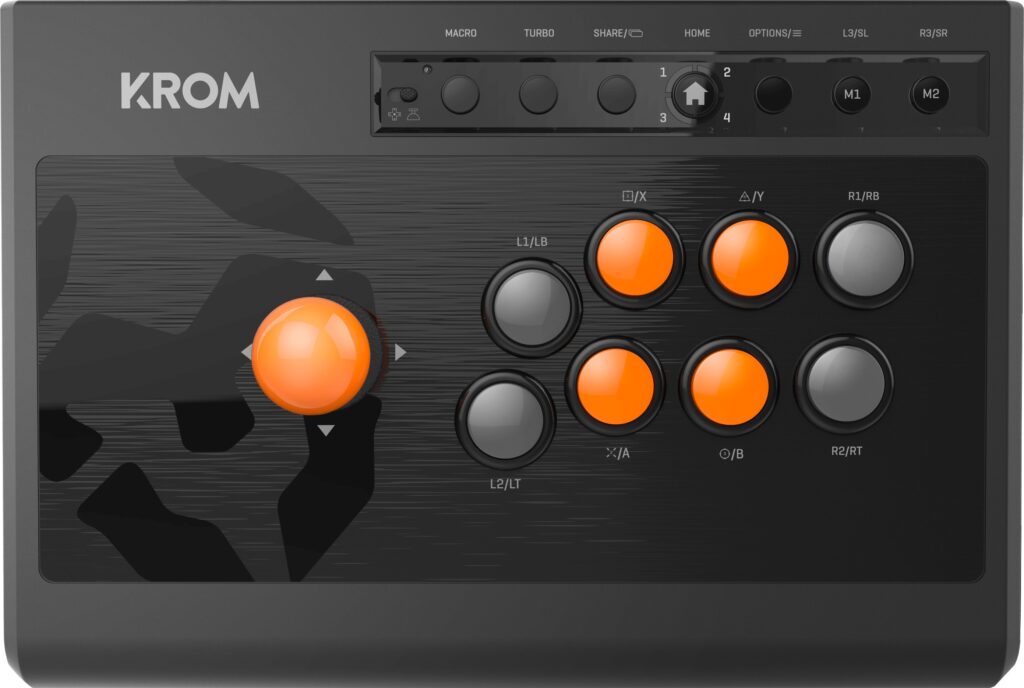 | | |
| --- | --- |
| Price | Amazon |
| Compatibility | XSX / XB1 / PS4 / PS3 / PC |
| Dimensions | 13.2" x 9.1" x 3.8" |
| Cable | 1.8 m |
| Weight | 2.73 lbs |
Quick Facts
There are eight main buttons,
There are two macro buttons.
There is turbo mode.
Performance
The joystick and buttons of the Krom Kumite are quite responsive with no noticeable latency, but expect some noise when using this arcade stick. However, it should not be anything out of the ordinary. The joystick itself can handle a lot of force without compromising its condition. Furthermore, the joystick ball rotates as well for maximal comfort. Finally, the non-slip rubber feet at the bottom seal the deal.
Hardware
This is a sturdy arcade stick that is highly resistant and will take a beating if needed. The accessory buttons can be found on the upper right. Connectivity to consoles requires a native controller as a bridge, which can be cumbersome, but connecting to a PC happens instantly. The USB cable itself is not braided but still sturdy.
On the lower part of the unit, you can find four foam pins that provide grip and act as shock absorbers, much like screws to access the interior. If you were to mod this arcade stick, it would probably be very challenging as it seems that Krom Gaming has not really put modders into consideration.
Appearance
This fightstick is gorgeous. It provides a color scheme of black and orange that is unseen in recent memory, and it pulls it off elegantly, especially because of the minor nuance of the artwork due to the Krom logo.
One minor pet peeve is that the orange buttons are not the four leftmost buttons. For example, Tekken players would have otherwise been able to focus on only the orange leftmost buttons, but they instead have to press a mixture of gray and orange buttons, which could actually be their preference. Lastly, the connector is gold plated, which is a nice touch.
Conclusion
If you would just like a sturdy arcade stick and are not interested in any modding shenanigans, this arcade stick may be for you if you can overlook the bridged connectivity.
Responsive parts
Highly resistant
Simply gorgeous
Quite loud
Bridged connectivity
Hard modding
Rating
⭐⭐⭐⭐
Links