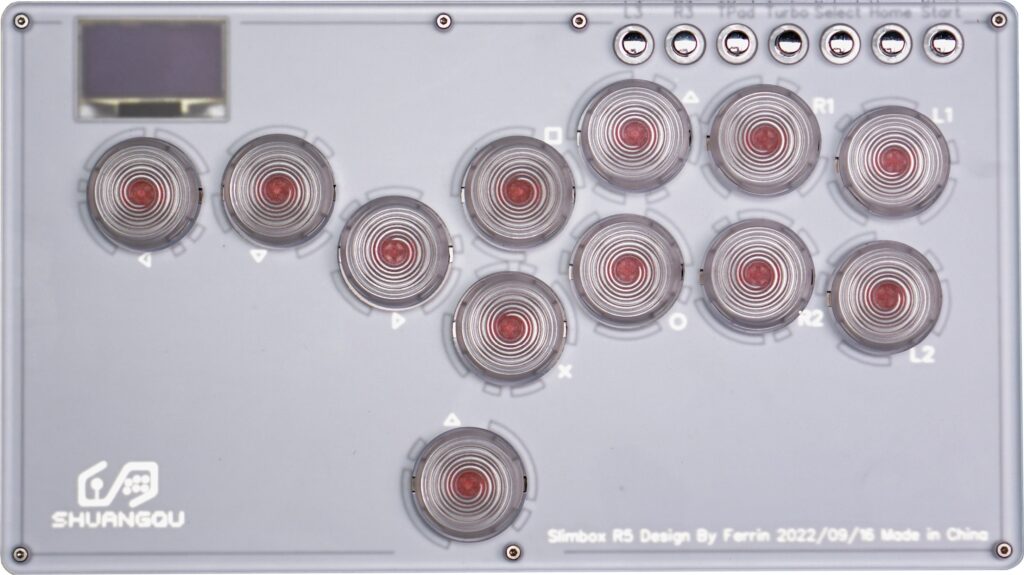 | | |
| --- | --- |
| Price | AliExpress |
| Release | July 4, 2022 |
| Compatibility | NS / PS4 / PS3 / PC |
| Dimensions | 8.7″ x 5.2″ x 0.6″ |
Editions
Performance
SQ Arcade AKA Shuangqu presents the Slimbox R3. The 24 mm buttons include a mix of Kailh on top and Gateron on the bottom. The secondary buttons include:
R3
L3
Turbo
Select
Home
Start
More specifically, the switches are the Gateron low profile type, so if you like playing fighting games with switches similar to those in mechanical keyboards, you should feel at home. Otherwise, the edges of the Slimbox may be too sharp for your tastes, not in a way that would cut you, but comfort may not be optimal. There is an input display on the upper left.
Hardware
The Slimbox seems to be made of quality acrylic. It comes with a shaft, shaft puller, plastic spudger, and USB-C cable. As for the printed circuit board (PCB), you can choose between Brook and Pico. Note that the Brook PCB does not support the Nintendo Switch. Also, SOCD cleaning is unique to the Brook PCB. More specifically:
Left + right = neutral
Up + down = up
Otherwise, PC compatibility is achieved through XInput. The Slimbox can allegedly fit a Brook UFB-UP5 for PlayStation 5 compatibility.
Appearance
The Slimbox is quite a good looking hitbox. Some may describe it as having a frosted or even electrical appearance. SQ Arcade has confirmed that it can accept custom art. For that, we at The Arcade Stick have a custom artwork service.
Conclusion
The Slimbox is about as good as a mini acrylic hitbox with mechanical switches can get.
Quality build
Switches feel good
Controllers looks good
Customizable art
PCB options
Included accessories
Rating
⭐⭐⭐⭐⭐
Links