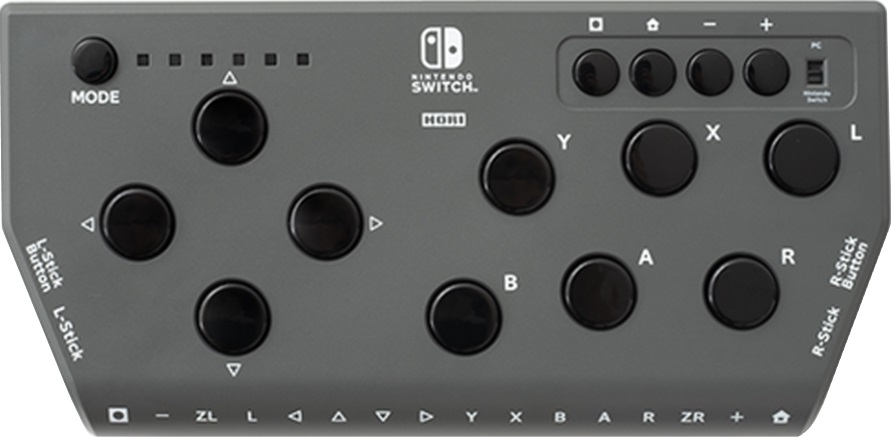 | | |
| --- | --- |
| Brand | Hori |
| Price | AbleGamers |
| Release | November 2020 |
| Compatibility | NS / PC |
| Dimensions | 9.8″ x 4.9″ x 2.6″ |
| Weight | 1.1 lbs |
Quick Facts
The Flex Controller is officially licensed by Nintendo.
It was developed under the supervision of Technotool, which specializes in products for those with special needs.
It was designed for gamers with cerebral palsy, muscular dystrophy, and spinal muscular atrophy (SMA).
Although it looks like it can be used by all gamers, Hori suggests sparing units only for those with special needs.
It is compatible with Hori Real Arcade Pro V Hayabusa, Horipad, Horipad Mini, and Hori Battle Pad.
It is also compatible with the Optima Joystick.
Performance
The Flex allows for assistive switches and joysticks to be connected via auxiliary and USB ports. They are sold separately. Assistive switches that have a 3.5 mm jack are compatible. Note that some assistive switches like sensor ones may cause input delay and/or unwanted button holding or mashing. You can change button assignments and joystick settings such as sensitivity and dead zones. Up to 12 profiles can be saved: six for the Nintendo Switch and six for PC. The controller is only compatible with XInput and not DirectInput. Eye tracking can also be used with a PC, sensor, and video capture unit.
It would have been nice to have more control over mapping functions. Otherwise, the buttons feel good. Missing in action are the following functions: gyro, accelerometer, HD rumble, NFC, and IR camera. In any case, you can simply use the Flex as a hub for different accessories you plug in to play however you want to play without even using the controller's buttons. You can even use your feet given you plug in the appropriate accessory! Simply plug in an accessory into the port with the symbol of the function you are trying to replicate. For example, if you want to use an assistive switch to press up, connect that switch to the up symbol. Simple!
Hardware
The connection is USB type-A. The controller plugs into the Switch dock, not the Switch itself. It can only be used in TV mode, not tabletop or handheld mode. The controller can be attached to a stand like a camera mount using a ¼ inch screw. However, its most optimal position seems to be on a table.
Appearance
The Flex has a barebones gray scheme while fitting the Nintendo aesthetic. The accessories of the controller add flair to it. Otherwise, the controller itself is nice and minimalist looking. However, the buttons show fingerprint smudges.
Conclusion
This controller is a viable solution for those with special needs who cannot operate the traditional arcade stick. Any downsides mentioned in this review are simply pet peeves and do not take away from the essence of this masterpiece.
Officially licensed
Quite versatile
Good buttons
Limited compatibility
Limited mapping
Missing features
Rating
⭐⭐⭐⭐⭐
See Also