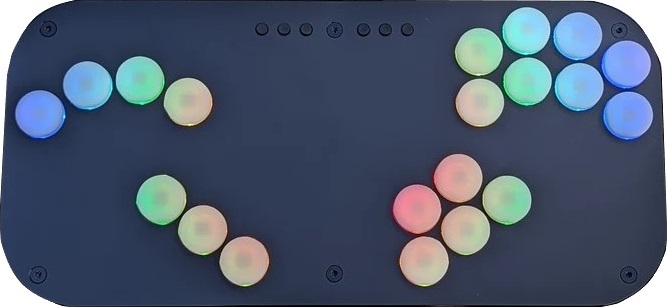 | | |
| --- | --- |
| Price | Prong |
| Release | Q4 2023 |
| Compatibility | NS / Wii / GC / PS4 / PS3 / X360 / PC |
| Dimensions | 13.4″ x 6.4″ x 0.6″ |
| Weight | 2.4 lbs |
Preview
The Superslab is a Super Smash Bros. controller with layered acrylic. It is lightweight in a way that makes it convenient to travel with without sacrificing stability while set on a desk. Included with the Superslab is a bottom grip pad, foam key dampeners, and two cables:
USB-C to USB-A
USB-C to GC
Also included is a clear layer for art, and if you would like custom art for your Superslab, we at The Arcade Stick can help you with that through our custom artwork service.
You can express yourself with high-frequency LED under every button. There are at least 30 different patterns, including a unique motion-sensing mode and parameter tweaking for unlimited combinations. To update or change the settings of your Superslab, you can do that through your computer's browser.
Here are some more technical details:
20 Kailh Choc Red Pro 35 g linear switches with custom polycarbonate keycaps
6 silicone rubber secondary buttons
1000 Hz polling for sub-millisecond latency
XInput and DInput for PC
Gyroscope motion controls
See Also