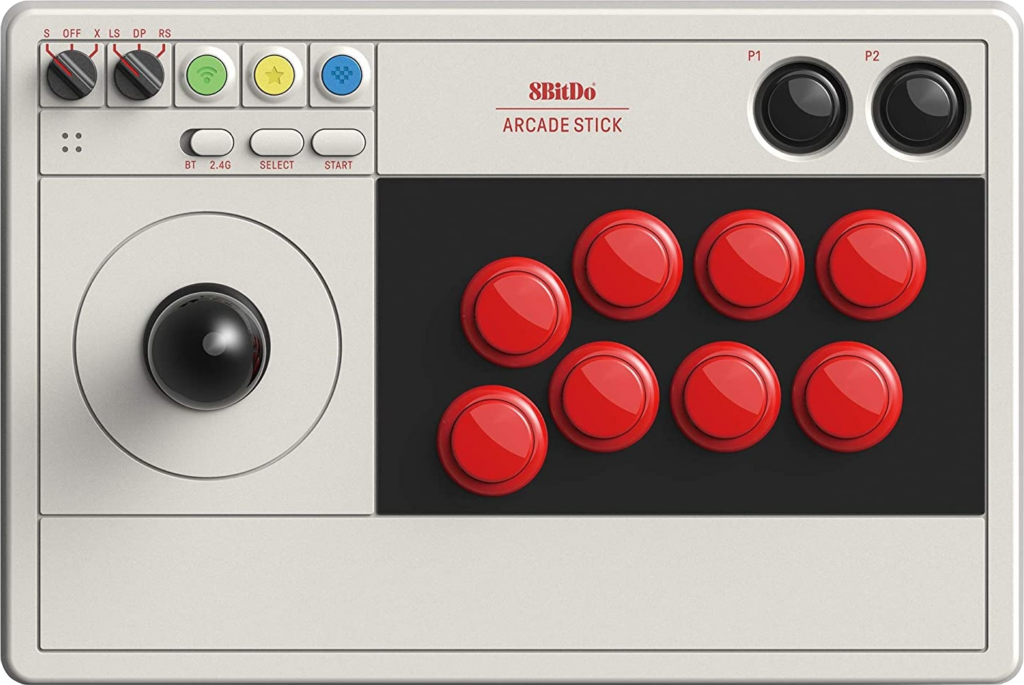 | | |
| --- | --- |
| Price | Amazon |
| Release | November 16, 2020 |
| Compatibility | NS / PC / RPi / Android |
| Dimensions | 11.9" x 8.0" x 4.4" |
| Cable | 3 m |
| Weight | 4.63 lbs |
Quick Facts
Button mapping and button macros are possible through the attached software.
There are two dedicated macro buttons.
Controller profiles can be switched between at any time.
The visuals change when switching between platforms.
There is a turbo mode.
There is a universal joystick mounting plate.
Besides USB-C, you can connect the arcade stick through Bluetooth or even 2.4G.
Performance
The joystick is positioned a little further away from the buttons compared to the previous N30, which had the state-of-the-art Vewlix layout, although this new layout is still comfortable. Otherwise, the joystick feels good, and the buttons are okay. The top panel is plastic but not malleable when you press your hands on it.
On four platforms, there were no latency issues with any connection method, but you should always go for wired when you can. However, when using Bluetooth for Android, the latency was inconsistent from emulator to emulator, but can we really bash 8BitDo for the unadvertised Android compatibility? The arcade stick worked well with some emulators, though.
Hardware
The arcade stick is slightly bigger but thinner than the previous N30. There is a nifty door in the back for the storage of small items, such as the USB-C. Although 8BitDo claims that this arcade stick is ultra moddable, it can be hard to figure out which screws they used. You have to find a screwdriver that fits at least slightly.
Once you unscrew the arcade stick, it comes apart rather easily. You will then realize why the arcade stick is so heavy: the weight has been artificially boosted by a thick interior metallic plate that focuses the weight towards the bottom.
The buttons have quick disconnects, but the wiring is unusual. Replacing the buttons would need snap-ins for each button. The wires are soldered directly onto the microswitches. At least removing the joystick is simple. With a 1,000 mAh lithium ion battery, you can expect to play for up to 30 hours through Bluetooth and 40 hours through 2.4G, with the charging time being four hours.
Appearance
This arcade stick sports a design similar to the N30's, and the colorful array of buttons on the upper left is unique to see, but the general Nintendo aesthetic is still there. The artwork may be challenging to mod.
Conclusion
This is a wireless arcade stick with a good performance and solid build.
Decent performance
Sturdy build
Not ultra moddable
Heavy bottom
Rating
⭐⭐⭐⭐⭐
Links