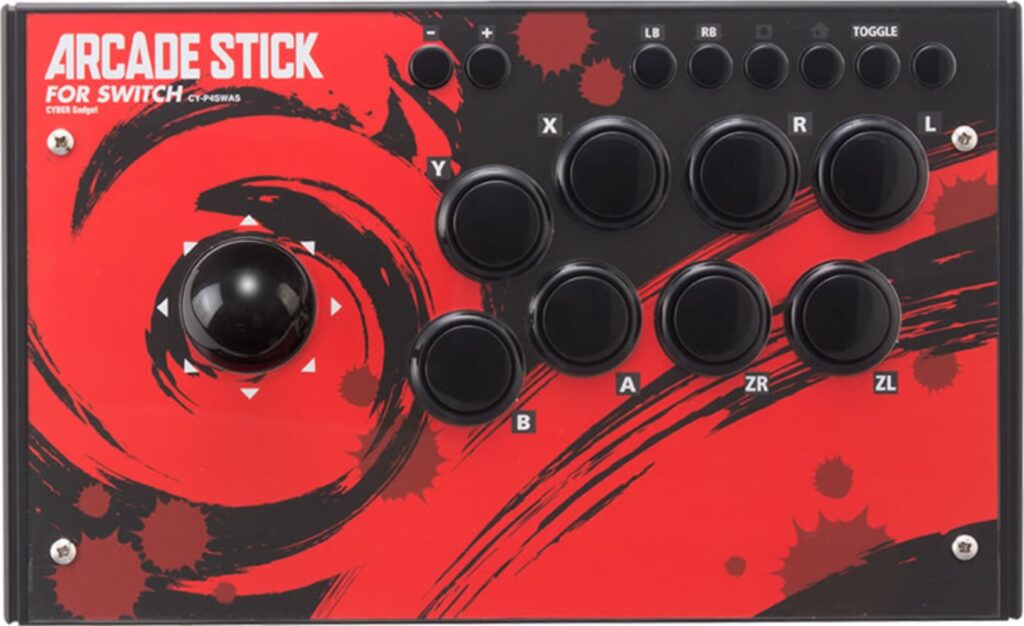 | | |
| --- | --- |
| Price | Amazon |
| Release | October 11, 2019 |
| Compatibility | NS / PS4 / PC / Mega Drive Mini / Astro City Mini |
| Dimensions | 11.5″ x 7.0″ x 2.2″ |
| Cable | 0.63 m |
| Weight | 2.65 lbs |
Quick Facts
The CY-P4SWAS is also compatible with Retro Freak and the PC Engine Mini.
The arcade stick may not be able to be used normally on a PC depending on the environment and applications.
When using on any of the mini platforms, it is necessary to update the firmware.
Four overlay sheets are provided: red, blue, and two dark artworks.
Performance
Like with many arcade sticks, the joystick has a toggle for D-pad or analog. The joystick itself feels like the middle brother of Sanwa and Seimitsu when it comes to quality. The buttons have a bit of a sinking quality to them that may artificially increase the travel distance, but the arcade stick as a whole seems refreshingly quiet, which can not only give you peace of mind while playing but also avoid giving away your inputs when playing offline multiplayer.
Hardware
The arcade stick is quite light to the point that you can carry it using only the joystick. Perhaps the primarily plastic composition of the arcade stick and there being little to no metal contribute to the lightness. However, diligent players should be able to function well while playing with this arcade stick on a lap or table, thanks to the firm rubber feet. Stability aside, aggressive players may damage the actual hardware.
Besides that, one noticeable upside about this arcade stick is that the buttons can be easily replaced if there is a need. For the Retro Freak update, you need a separate microSD card, a computer that can be connected to the network, and an environment in which you can read and write on the microSD card.
Appearance
While this arcade stick comes with four overlay sheets, the star of the show is the red option advertised as the shade chosen is appealing and the artwork is enticing. Furthermore, the upper left text comes in a font that is satisfyingly Marvel-esque. If you want to remove the acrylic panel, you will likely need a Phillips screwdriver.
Conclusion
The CY-P4SWAS is best described as a lightweight fightstick for those based in Japan and also beyond the island.
Surprisingly quiet
Artwork options
Compatibility process
Lightness
Rating
⭐⭐⭐⭐
Links