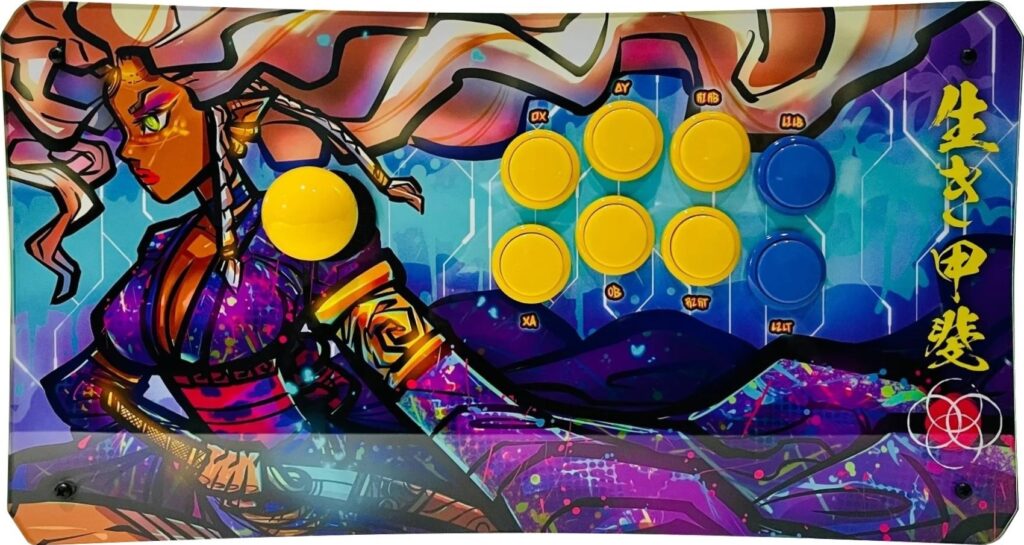 | | |
| --- | --- |
| Price | jonyfraze |
| Release | February 2, 2023 |
| Compatibility | PS4 / PS3 / PC |
| Dimensions | 16.25" x 8.75" x 2.25" |
| Weight | 6.5 lbs |
DIY Edition
Preview
4TW stands for "for the dub" or:
For the worthy
For the wise
For the warriors
The 4TW is a heavy duty cast-acrylic case that can be ordered preassembled or in do-it-yourself format. There are optional artwork covers, and you can submit artwork requests to the designer, jonyfraze. We at The Arcade Stick also offer a custom artwork service.
The matte-black case is made of quarter-inch cast acrylic. There is also eighth-inch matte-black acrylic or you can simply opt for clear-acrylic artwork covers of the same thickness. The Sanwa joystick and buttons are black unless you state otherwise. Furthermore, there are 0.16″ EVA foam cushions at the bottom.
Here is a list of the available layouts:
All buttons
Shiokenstar
WASD
Noir
Sega 2P
Vewlix extended
Hitstick
Mixup
WASD + up
Antagonist
The 4TW comes with a Brook printed circuit board (PCB), an external USB cable, and internal wiring.
If you order the case alone, here are some important details:
24 & 30 mm snap-in or screw-in buttons are compatible.
Japanese levers with flat mounting plates are compatible.
Korean levers with short collars are compatible.
24 mm Neutrik USB A-to-B ports are compatible.
Mounting holes for Brook PCBs and similar innovations are included.
Those who prefer a 35.1 mm hole on the top cover for a full-collar Korean lever can tell that to jonyfraze.
See Also