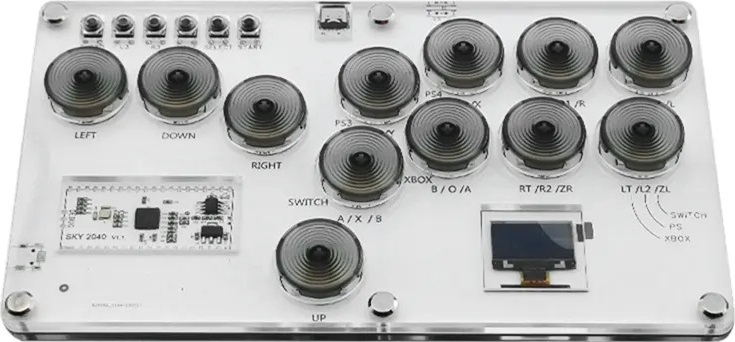 | | |
| --- | --- |
| Price | AliExpress |
| Release | 2023 |
| Compatibility | NS / PS4 / PS3 / PC / Android |
| Dimensions | 8.3″ x 4.7″ x 0.5″ |
Performance
The buttons of the SKY2040 by SkyUan, which are quieter than average, are laser-printed. The switches are hot-swappable with 3-pin and 5-pin switches. Otherwise, the controller comes with low profile Gazzew GTMX Red switches. The OLED display is there to better inform you about what you are doing with the controller. There are four rubber feet for stability purposes.
The secondary buttons of turbo, L3, R3, home, select, and start are located on the upper left of the top panel. They are small enough not to be pressed by you on accident.
You can switch directional modes between D-pad, left, and right analog stick. The SOCD modes include up, neutral, and last input priority. The turbo mode enables button pressing from once to 60 times a minute.
What is nice about the controller is that the spacing of the buttons is not compromised despite the smaller form factor of the controller. However, the jump button is the same size as the rest of the buttons instead of being bigger (the standard hitbox layout).
The edges of the controller could have been less sharp. If you are the crafty type, you should be able to sand them. On the bright side, despite being a smaller controller, it may be suitable to place on your lap to play, although desk play remains optimal for it.
Hardware
The controller is made of quality acrylic. The size of the controller can be described as bigger than a smartphone. The USB-C port comes out of the center back. The cable is included. The PCB is exposed for your convenience. It runs on the open source GP2040-CE firmware.
Appearance
There is LED to beautify the buttons. The art should be customizable, and we at The Arcade Stick can provide you our custom art service.
Conclusion
This controller is one of the better options out there if you are look for something acrylic, mini, and slim.
Quieter buttons
Hot-swappable switches
Rubber feet
Lap-playable
LED functionality
OLED display
Rating
⭐⭐⭐⭐⭐
Link