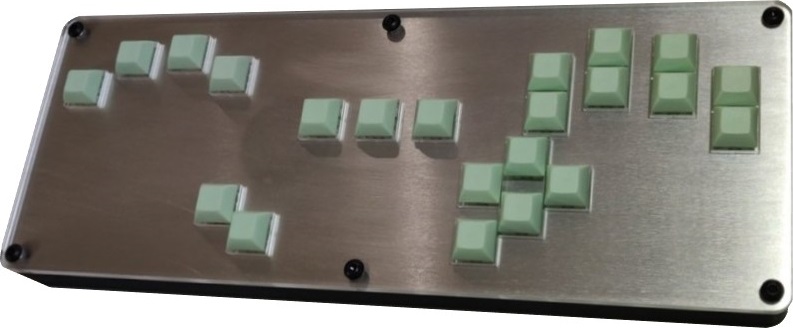 | | |
| --- | --- |
| Price | HTangl |
| Release | September 20, 2021 |
| Compatibility | NS / Wii / GC / PC |
| Dimensions | 14.4″ x 5.4″ x 1.2″ |
| Weight | 2.2 lbs |
Overview
The HTangl Rectangle Controller has a custom-designed layout that minimizes hand movement while playing Super Smash Bros. Your right hand would rest on the top row of keys instead of the bottom one. This way, you can move between rows by curling you fingers inwards to press the bottom keys. More specifically, the HTangl moves the right hand rows further down to bring them closer to the C-Stick cluster.
Thanks to the open source firmware it uses, which is Haystack's HayBox fork, the HTangl is fully remappable. The free Visual Studio Code program can be used to change button assignments. All of the HTangl's design files are on GitHub, allowing you to see how everything works and even utilize the files to make your own box controller.
Although packed with Gateron Clear 35 g mechanical switches and DSA profile keycaps, you can also modify the feeling and weight of the keys as the HTangl is compatible with any MX mechanical switch or keycap of the standard size without the need for soldering, thanks to the hot-swap printed circuit board (PCB).
Regarding compatibility, the HTangl works on GameCube and Wii via a GameCube controller extension cable or a USB-C to GC cable (for the HTangl V2 only). Nintendo Switch compatibility is achievable via a GameCube controller adapter.
The bottom half of the HTangl's case was designed and manufactured by the creator. The case is 3D printed in one piece using PETG (polyethylene terephthalate glycol) filament, which has a higher heat tolerance than standard PLA (polylactic acid) filament that is use more often when 3D printing. As for the switch plate, it is made of aluminum and laser cut by SendCutSend. SendCutSend also laser cuts the top acrylic panels.
To customize the look of the HTangl, you can place an art decal between the metal switch plate and acrylic top panel. We at The Arcade Stick can hook you up with a custom art design through our art service.
See Also
Handcrafted Birch Wood Hit Box