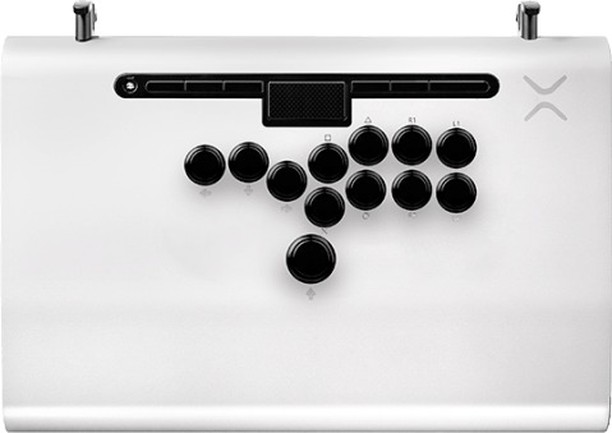 | | |
| --- | --- |
| Price | Amazon |
| Release | November 16, 2022 |
| Compatibility | PS5 / PS4 / PC |
| Dimensions | 16.25″ x 11″ x 2.25″ |
| Cable | 3 m |
| Weight | 7.8 lbs |
Editions
Performance
The Victrix by PDP Pro FS-12 comes with 24 mm Sanwa buttons, except for the jump button, which is 30 mm. The input latency is a mere 5 ms, so it is negligible. There is a tournament mode to avoid the secondary buttons activating during play. Otherwise, there is a 6.28° wrist slope for ergonomic purposes. Furthermore, there is a built-in foam pad at the bottom.
The gameplay feel is crisp, thanks to the Sanwa parts. Inputs feel tight, and the unit is responsive overall. A precise angle was clearly chosen for the slope of the controller to provide maximal comfort for the player.
With the inclusion of a touchpad, besides meaning that navigating PlayStation games is smoother, it is possible to fully utilize training mode features in some fighting games.
Hardware
This controller is made of a single piece of aircraft-grade aluminum, and the printed circuit board (PCB) is a Victrix custom PCB. There is a PS5/PS4/PC mode switch inside, and there is a 3.5 mm audio input/output jack. PC compatibility is achieved through XInput.
This controller is officially licensed by Sony, so you can expect it to potentially work on the future PlayStation 6 too, making it a wise investment in that case.
The weight and thickness of the controller are rather perfect, and the case is easy to open. Because of the quick-access back panel, components can be swapped out with ease, and mods can be made. The back panel can be unhinged with a single latch in order to swap out buttons. The integrated carrying handles allow for added portability.
With the controller, you get:
Detachable braided USB-C to A cable
Allen wrench
Storage bag
The fightstick edition also gives you:
Link 2 detachable shaft with a ball top attachment on a Sanwa base
Extra Sanwa joystick shaft and ball top grip
Dust cap for the detachable shaft
The detachable braided cable is convenient, and the fact that most of the cable is inside the unit while playing means that it does not impede movement. Pulling up on the unit while holding the joystick in place allows for the swift removal of the joystick. It can be stored in the back panel of the unit.
Appearance
Whether you go for white or purple, the aluminum chassis is brushed, anodized, and illuminated, withstanding a multitude of battles. At select events, there might be a service available to have images and text laser-etched onto your Pro FS-12.
Conclusion
The Victrix Pro FS-12 is an elegant powerhouse.
Sanwa parts
Aircraft-grade aluminum
Ergonomic slope
Carrying handles
Detachable braided cable
Detachable joystick
Extra joystick included
Easy to open
Back panel storage
Included Allen wrench
Rating
⭐⭐⭐⭐⭐
Links