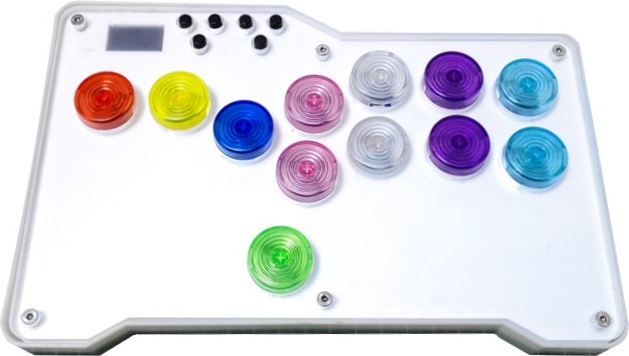 | | |
| --- | --- |
| Price | AliExpress |
| Release | Q1 2023 |
| Compatibility | NS / PS3 / PC / Android |
| Dimensions | 8.9″ x 5.7″ x 0.8″ |
| Weight | 1.49 lbs |
Large Edition
Performance
The RTU is a slim mini hitbox that can come with the quieter GamerFinger HBFS-30 buttons and Cherry MX or Glorious Panda switches, although there may be one faulty switch in your unit that can be swapped out. You might also have a wiggly button. Fortunately, you will likely be able to notice any faults by way of the roughly 1″ OLED screen that shows your button presses. The screen also shows your input type, turbo speed, direction type, and the SOCD cleaning mode.
It is worth noting that the RTU is best used on a table and not a lap since the average player would likely have to bring his or her legs together for lap play, which can get uncomfortable over time. Then again, it seems this was necessary to make the RTU more compact. On the bright side, the RTU is relatively weighty. Furthermore, its build is sturdy.
Hardware
The RTU is about one inch thick, so it is slimmer than average but not the slimmest controller out there. The RTU has an interesting array of secondary buttons to the right of the screen, which are as follows:
Turbo
Back
Start
Home
LS
RS
The PCB is the Raspberry Pi Pico running the GP2040 firmware, so the expected input latency is a mere millisecond. Your RTU should come with a USB cable, anti-slip padding, keycap remover, and Allen key. Speaking of which, the top panel has six hex screws, which are less common, and after opening it up, you may notice the foam over the PCB.
Appearance
The RTU has a pleasingly unique silhouette. The buttons can have different colors, and you can even have custom art on the RTU, which we at The Arcade Stick can help you with through our custom art service.
Just make sure you remove the protective film over the RTU when you receive it. It is worth noting that the colors of your buttons may not have the exact same shades you might have seen in the sample pictures.
Conclusion
Any setbacks of the RTU are fortunately correctable, so consider it during your next mini leverless hunt.
Buttons & switches
Sturdy build
Fairly weighty
Slimmer profile
Unique shape
Customizable art
Useful screen
Included accessories
Quality control
Hex screws
Lap play
Rating
⭐⭐⭐⭐⭐
Links