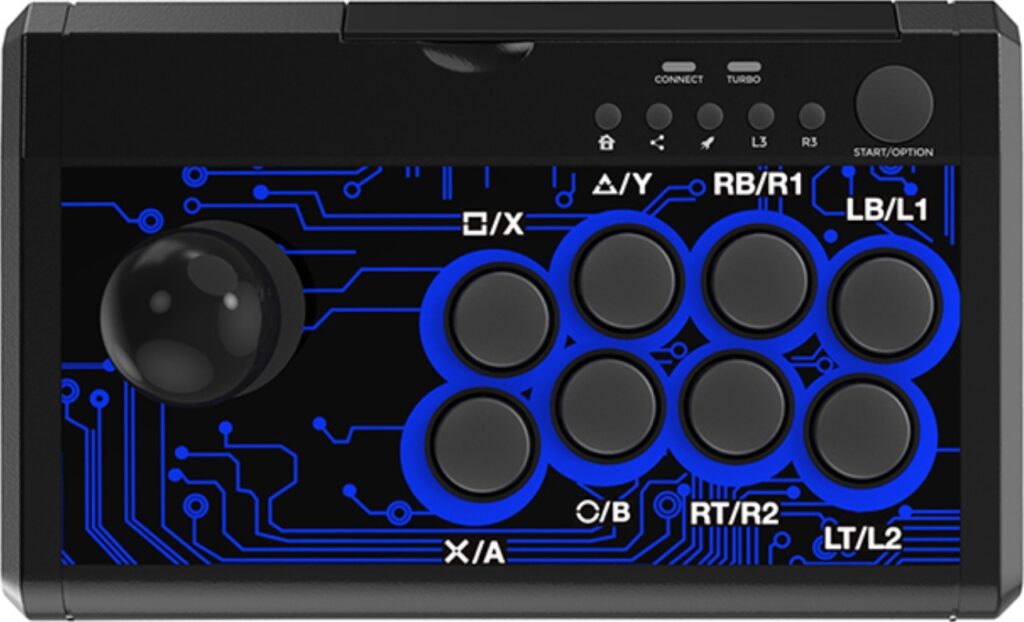 | | |
| --- | --- |
| Price | Amazon |
| Release | November 16, 2019 |
| Compatibility | XSX / XB1 / X360 / NS / PS4 / PS3 / PC / Android |
| Dimensions | 8.4″ x 5.3″ x 2.2″ |
| Cable | 2.4 m |
| Weight | 1.73 lbs |
Bigger Edition
Performance
At first, the circular gated joystick of the Dobe Small Rocking Table TP4-1886 feels too soft. Screw it all the way down, and it will likely be hard to remove. In addition, it will remain soft, but not as soft.
Although the joystick properly goes back to place if you move it and then let go, diagonal motions do not register well, which are crucial in fighting games as you sometimes need to block while crouching or simply jump forward. Furthermore, this can be problematic with QCF motions.
Even if you play a charge character in a game like Street Fighter, you still need diagonal motions. So, unless you are playing non-fighting games like side scrollers, this arcade stick is not reliable unless you upgrade the joystick.
The buttons feel okay and are reminiscent of buttons with switches as opposed to membrane buttons. Like the joystick, they are not too quiet but also not too loud. In addition, they are smaller than average, probably to make the arcade stick smaller. Speaking of which, your wrists will likely have to rest on a table or your lap while using this arcade stick. At least the rubber pads provide stability.
Back to the buttons, they do not feel as snappy as Sanwa buttons, and they have a slight wobble to them. To add, their travel distance seems shorter than usual. As for the secondary buttons, they are rubber, except for the rightmost start button that is bigger, probably for practicality purposes.
Hardware
This arcade stick is a clone of the DOBE TP-19302 and DOBE TNS-19059. It is conveniently sized, not too heavy, and not too light. It comes with a mini wrench to hold the bottom of the joystick in place while detaching the remainder of it, primarily the shaft and the ball top. You can reverse the process to put the joystick back together.
Thankfully, the joystick seems to be a Sanwa clone, indicating that upgrading to a Sanwa JLF is likely possible with minimal effort. However, the buttons seem almost impossible to change unless if you have highly advanced skills. Luckily, they are functional and serviceable. Another way to improve the joystick is potentially by wrapping electrical tape around the actuator to enlarge it by increasing the width.
The joystick's wrench can also fit in the USB compartment along with the joystick and its dust washer, but doing this would be challenging due to the limited space, and the wrench will likely rattle inside while carrying the arcade stick around. In fact, the compartment's space is so tight that even fitting in the cable can be a challenge.
Regarding USB, there is an additional port to the right to use a piggyback controller when connecting to a console. There is also a male USB-A to micro adapter. Otherwise, the connection is USB-C by default.
By the way, to pop open this arcade stick, you can use a #2 Philips screwdriver to take out six screws from the bottom and then push the metal panel out through the USB compartment. The interior is quite organized.
One note regarding compatibility is that, for the Nintendo Switch, A and B button placements are reversed or swapped by default. Furthermore, only PlayStation 4 games with legacy support seem compatible.
Appearance
Just like its bigger counterpart, this arcade stick features a primarily black case with some geometric shapes in a contrasting color, which this time happens to be blue. Stickers should be applicable to this arcade stick for extra personalization. It is worth noting that blue LED turns on when the arcade stick is plugged in.
Conclusion
This arcade stick can work for 2D games, but if you would like to play fighting games, consider a Sanwa joystick upgrade.
Sanwa joystick compatibility
Convenient size & weight
Rubber pad stability
Joystick diagonal motions
Mediocre buttons
Clunky USB compartment
Rating
⭐⭐
Links