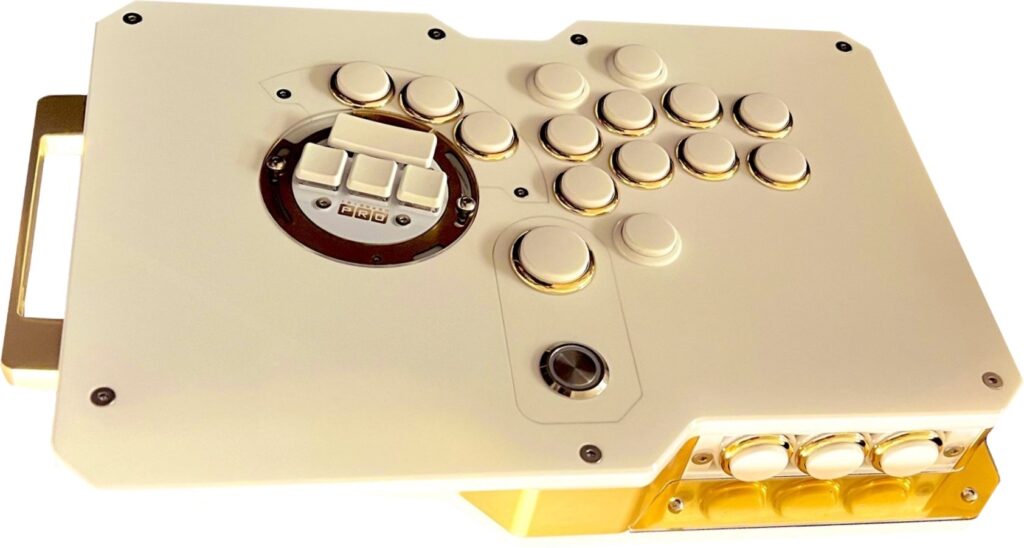 | | |
| --- | --- |
| Brand | ASIndo.pro |
| Release | August 2023 |
| Thickness | 2″ |
| Weight | ~5.5 lbs |
Preview
The VB1 is a project by ASIndo.pro AKA Golden Lever from Indonesia. It can essentially be described as a mixbox, so there are keys on the left for directional inputs and buttons on the right for attack inputs, but there are also directional buttons in a remixed hitbox style, and the up key is almost like a mini spacebar that is available in at least two sizes.
Some of the left buttons serve as the touchpad, L3, and R3. The buttons are primarily 24 mm with the central golden button being 30 mm like most hitboxes. This layout was designed for hands of all sizes. In fact, there are three swappable thumb plates. ASIndo.pro can also provide an Iris cover.
There are at least two auxiliary buttons on the bottom right, and the USB port comes out of the middle back. The bottom left features an LS/DP/RS switch, and nearby is a SOCD switch. The PCB is by Brook.
The VB1 is slightly larger than a 10″ iPad. Its build is solid enough not to flex upon applying pressure. The pillars are metallic. While the weight is less than 6 lbs, it is still a hefty controller.
See Also