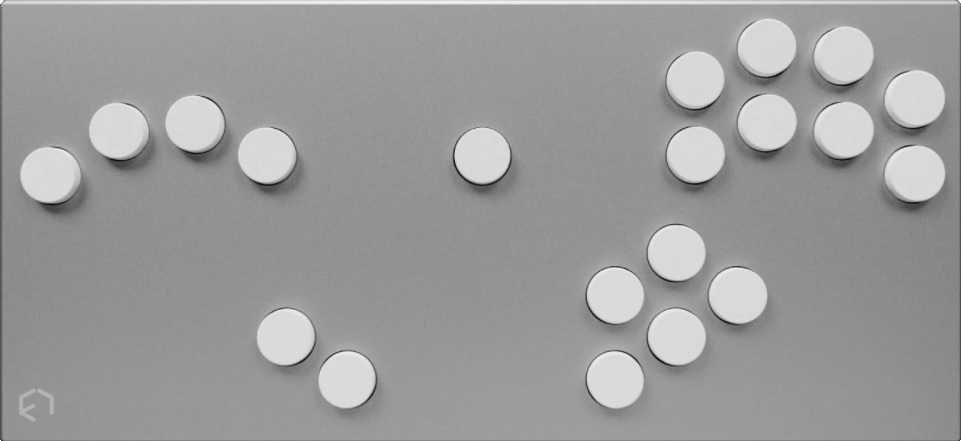 | | |
| --- | --- |
| Price | Frame1 |
| Release | January 2021 |
| Compatibility | Wii / GC / PC |
| Dimensions | 14.2" x 6.5" x 0.9″ |
Editions
Performance
The Frame1 Heavy was specifically designed for Super Smash Bros. It has nice polybutylene terephthalate (PBT) button caps with minor texture. The keycaps are thick as well. The switches have a short actuation and travel distance. There is anti-slip rubber-like material at the bottom that does the job.
The Frame1 allegedly has a 0.8 ms advantage over the B0XX, which was proven through a test. It is also thinner and smaller, but there is still wrist space despite the smaller size. One caveat, however, is that the upper right buttons may feel too close for you, but nothing game breaking.
Hardware
Some of the features of the Frame1 include hot-swappable Gateron optical yellow switches, a steel switch plate, a machined aluminum unibody, and a 72 MHz ARM Cortex processor. Included are a carrying case, switch removal tool, and braided GameCube USB-A to USB-C cables. The Frame1 feels solid as a brick, and the edges are perfect. However, should you want to replace the steel with something else, it can be a hard task as the steel feels stuck in place.
Nintendo Switch compatibility can be achieved with a GameCube adapter or by installing a Brook printed circuit board (PCB). Installing a PCB can also make the controller compatible with the PlayStation, Xbox, and more. Some software features that are a work in progress will be added in the future via a software update, such as a Nintendo 64 mode (separate cable required), per-platform button remapping, Brook PCB remapping, and additional PC modes.
Appearance
There is not much going on with the look of the Frame1, but not every fighting game controller has to be flashy. In fact, minimalist designs are a refreshing change of scenery in an arcade stick world filled with flash and pizazz. The finish is perfect and does not show fingerprints, which is what matters. All in all, the Frame1 optimizes the look it wants to deliver.
Conclusion
You are getting a quality product with not many like it, and it could make a difference in your Smash game, which is what it was designed for.
Quite pleasant keycaps
Efficient real estate
Rating
⭐⭐⭐⭐⭐
See Also
Handcrafted Birch Wood Hit Box