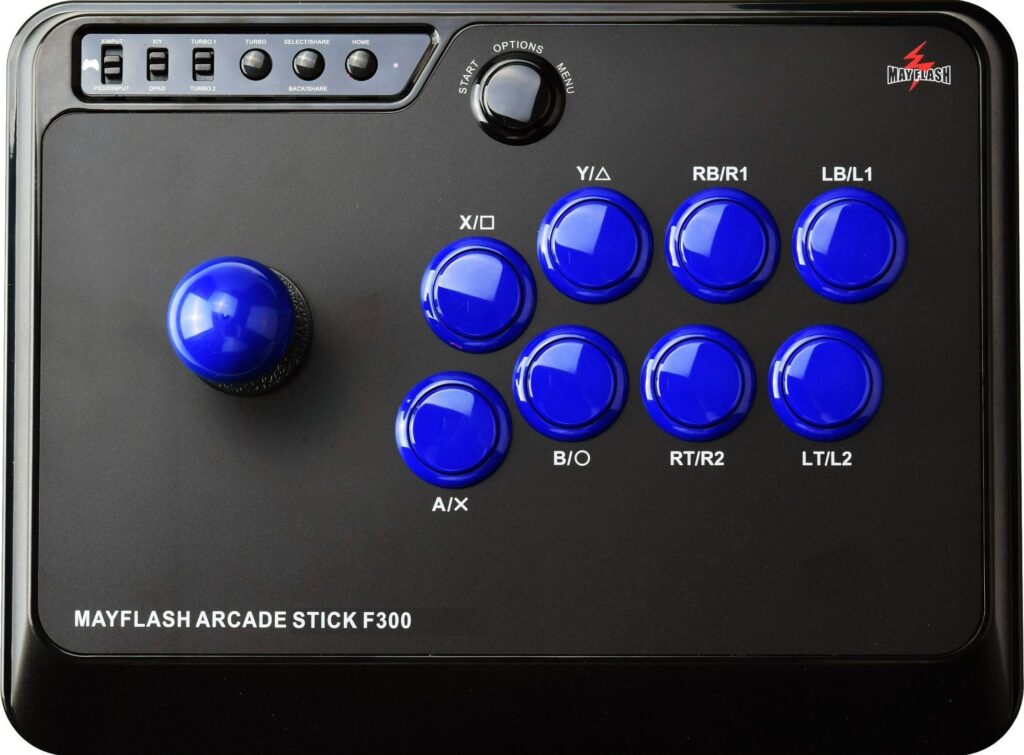 | | |
| --- | --- |
| Price | Amazon |
| Release | December 21, 2015 |
| Compatibility* | PS5 / PS4 / PS3 / XSX / XB1 / X360 / NS / PC / Android |
| Dimensions | 13.0" x 10.5" x 5.5" |
| Cable | 3 m |
| Weight | 4 lbs |
*The Magic-S Ultimate is needed for PlayStation 5 compatibility.
Sanwa Edition
Performance
The Mayflash Arcade Stick F300's size means that desk play would be more comfortable than lap play. The joystick feels hefty, but it is not as smooth as other state-of-the-art counterparts. The same applies to the buttons, which do not spring back up with the same responsivity as Sanwa buttons. Still, the F300 has decent parts.
In any case, the F300 is compatible with Sanwa parts, and there is even a Sanwa edition. With the stock parts, the F300 succeeded during acceptance testing, so you should not worry about buttons not registering inputs, for example. There are two turbo modes, and there is a turbo light indicator to let you know that turbo is working. The start button is recessed, making it hard to press by accident.
Here are the secondary functions:
Input mode
XY & D-pad
Turbo 1 & 2
Back/view
PS/home
L3/R3 buttons seem to be missing in action, but to activate the touchpad, you can press the third and fourth functions mentioned above.
There are four rubber feet at the bottom for stability, and you can even install four more rubber pegs that come with the F300. There is even an additional octagonal joystick gate. The cable comes out of the back, and it has a convenient Velcro wrap. You also get a male USB-A to micro cable with the F300 as well as a USB to USB-C adapter (female to male).
Hardware
The weight of the F300 is average, and there can be some flexion on the panel between the buttons, but there should not be any effect on gameplay. You are six screws away from opening the F300 up. The interior is quite organized with decent color coding.
Regarding compatibility, you need to connect a native controller to make the F300 work on some consoles. There is a USB-A port in the back. Otherwise, for PlayStation 5 compatibility, you can use an adapter called the Mayflash Magic-S Ultimate. Firmware updates are on the Mayflash website if needed.
Appearance
The F300 has a minimalistic color scheme of dark gray and blue. One thing worth mentioning is that the top panel may become visually oily after extended play, but you should be able to wipe off the smudges with a microfiber cloth.
Now, if you would like to spruce your F300 up, you can print out an artwork decal through a service like DecalGirl to stick onto the surface. You can order custom art from our custom artwork service. Check out this artwork our Carlos Martinez put together for a client's F300:
Conclusion
Multiplatform with decent parts and thoughtful accessories, the F300 is a recommended entry point into fightsticks.
Multiplatform
Decent parts
Recessed start button
Should not slide
Cable wrap
Added accessories
Firmware updates
No L3/R3
Piggyback system
Rating
⭐⭐⭐⭐
Links