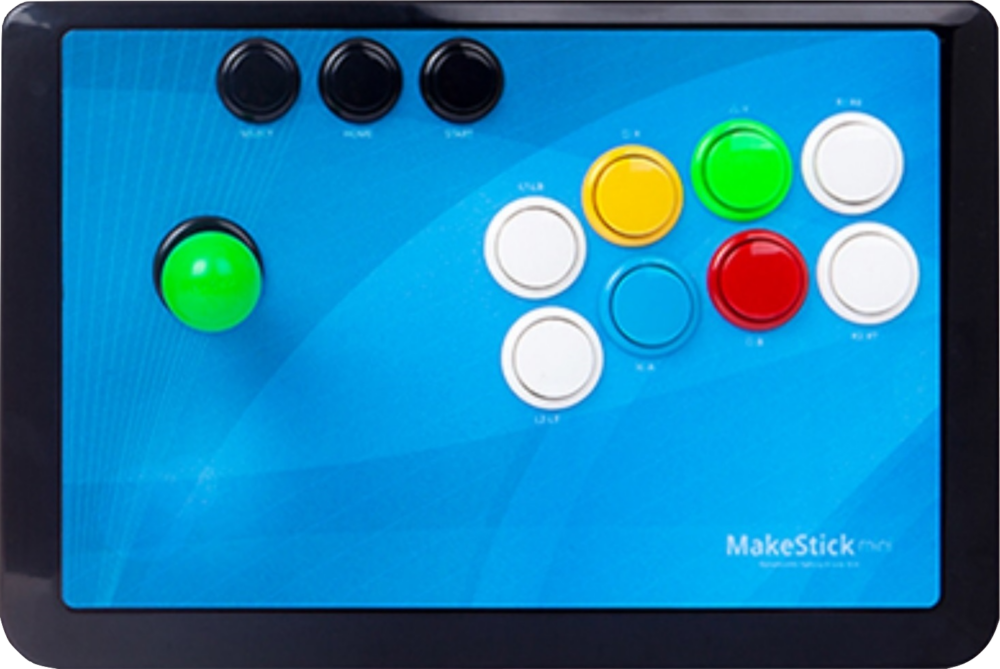 | | |
| --- | --- |
| Price | IST Mall |
| Compatibility | PS5 / PS4 / PS3 / PSC / XSX / XB1 / X360 / XB / NS / PC |
| Dimensions | 12.7" x 8.7" x 2.4" |
| Weight | 2.54 lbs |
PlayStation Edition
Quick Facts
The Korean joystick is the Fanta 20.
The buttons are IST.
You can choose the joystick, buttons, and button color.
You can also add cables and weight.
The arcade stick is also compatible with the Neogeo Mini and Sega Genesis Mini.
Performance
The MakeStick Mini Universal is roughly 15% smaller than the average arcade stick, but it retains enough space for hand and finger movement without unwanted collisions. The arcade stick is intended to be a low budget option, and the joystick is not very flexible. The joystick is reminiscent of those found in smaller arcade machines from the 90's. Luckily, this can be overridden by opting for a higher end joystick. Otherwise, IST's buttons are fine. When it comes to platform compatibility, there was no noticeable input delay per platform.
Hardware
Assuming that everything is in stock, you can choose from 21 joysticks, 12 sets of buttons, a custom button color scheme, two added cables for the Neogeo Mini and original Xbox, and an added iron sheet of approximately 4.19 lbs. Regarding the added weight, it is advisable to buy an anti-slip pad to play on a table. Furthermore, modders need to be warned that the plastic may be damaged during disassembly using a screwdriver. Thus, try to order the arcade stick as closely as possible to how you would like the final product to be.
Appearance
The arcade stick has soothing shades of light blue behind an interesting array of colors for the joystick and buttons. Also, the name of the arcade stick is tucked in quite tastefully in the lower right corner. However, some might consider the overall artwork to be a step down from the more nuanced artwork of other arcade sticks. Unfortunately, it is hard to replace the artwork as the top panel is plastic bonded with sheet paper, and the bottom panel is acrylic.
Conclusion
It is nice how you can customize this mini arcade stick when ordering it.
Spacious mini layout
Quite soothing artwork
Customization options
Stiff stock joystick
Tough to mod
Rating
⭐⭐⭐⭐
See Also