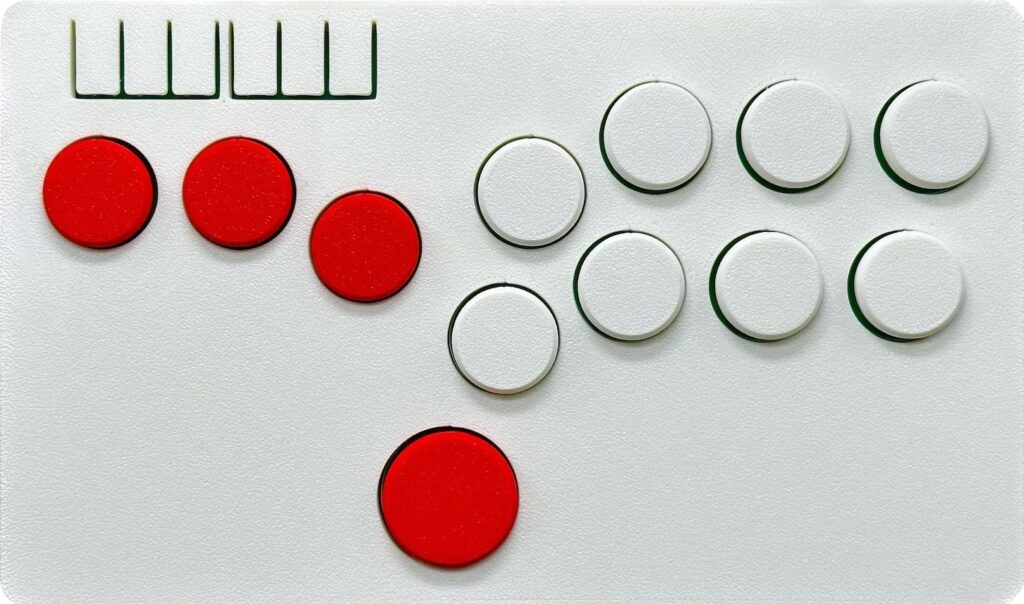 | | |
| --- | --- |
| Price | Etsy |
| Release | January 11, 2023 |
| Compatibility | NS / PS3 / PC |
| Dimensions | 8.6″ x 5.1″ x 0.6″ |
| Weight | 0.54 lbs |
Budget Edition
Introduction
SGF Bridget is a mini plastic hitbox based on the fourth revision of the Flatbox by jfedor. The goal behind Bridget is to be an affordable hitbox that is portable enough for travel purposes while having easily available parts despite any chip shortages.
Peformance
Where Bridget shines is in the responsive buttons. The Kailh clear switches are quite responsive. If you have an earlier unit with an issue of the rubber feet detaching, you can apply some sort of adhesive to keep them attached. Otherwise, newer builds should have sturdier feet. Bridget is comfortable on a lap as well.
Hardware
Bridget is an easier option to order a Flatbox instead of building one yourself, especially because Bridget includes updates to the 3D-printed case for added durability and serviceability. There are brass screw threads, and the port is USB-C.
For compatibility and SOCD options, Bridget runs on the open source GP2040-CE firmware. The printed circuit board (PCB) is assembled with Kailh switches that are socketed for easy swapping and cleaning without soldering. PC compatibility is instant and effortless with Bridget.
Appearance
Bridget has a simple aesthetic concept in which you pick the case and button colors you like. Note that the 3D-printed nature of Bridget means that there may be minor nuances per unit, but SGF Devices strives for quality with every print. Simply put, there should not be any significant blemishes on your unit.
Conclusion
With Bridget, SGF Devices offers an appealing premade alternative if you would not like to build a Flatbox yourself.
Responsive buttons
Size utility
Sturdy material
Quality consistency
Color options
Rating
⭐⭐⭐⭐⭐
Links