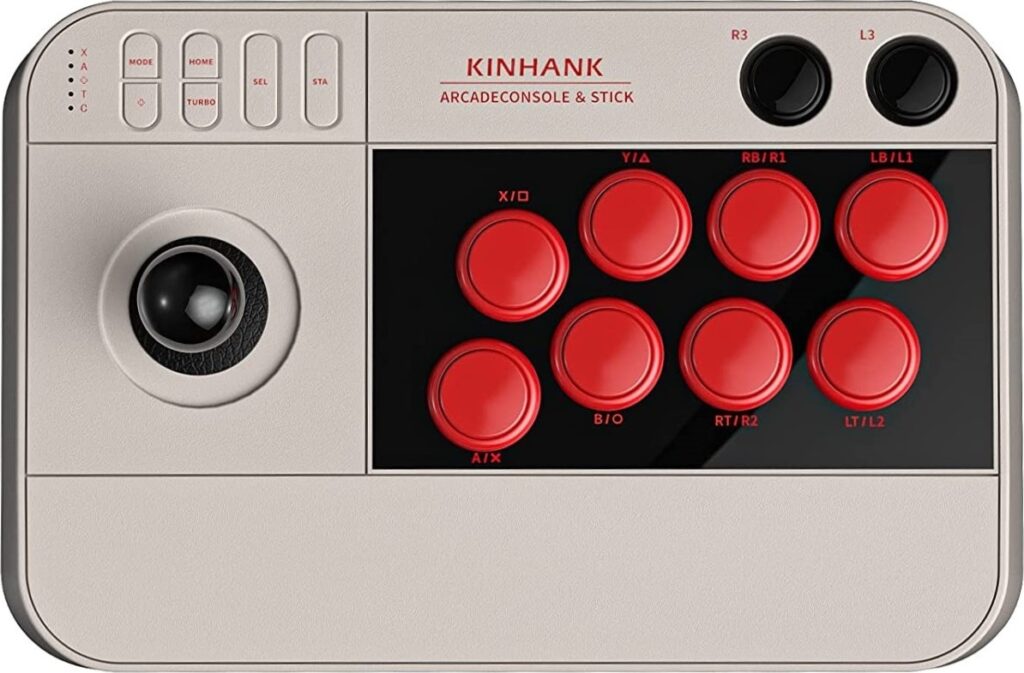 | | |
| --- | --- |
| Price | AliExpress |
| Release | April 1, 2022 |
| Compatibility | NS / PS4 / PS3 / PC / RPi / Android |
| Size | 11″ x 5.9″ x 2.1″ |
| Weight | 3.3 lbs |
Introduction
This 2-in-1 offering by Kinhank is an arcade stick that can also work as a console. The way the arcade stick works as a console is through a pre-installed EmuELEC system that can be compatible with many emulators, such as:
Arcade
Sega Genesis
Sega CD
Sega Saturn
Sega NAOMI
MAME
PlayStation 1
Game Boy Advance
FBNeo (Final Burn Neo)
You can install a whopping 23,000+ classics from the 80's and 90's!
Performance
The arcade stick sports an eight button Vewlix layout. Some of the buttons include start, select, home, turbo, and mode. There are actually ninth and tenth buttons that are up yonder on the right, namely for L3 and R3 functionalities. The buttons and joystick feel good, but we reckon you can opt for higher quality parts if you please. Moving on, there are anti-skid pads at the bottom for stable play.
Besides the power button, here are the ports you can find in the back from left to right:
AV
TF card
USB
HDMI
LAN
DC
Type-C cable
What is a TF card, you ask? It stands for T-Flash or TransFlash card. That was the original name for micro secure digital (SD) cards.
Hardware
This arcade stick is supposed to connect to any platform without tedious setting adjustments. In other words, it recognizes a platform by itself. You can even connect it to a TV, computer screen, or projector! External USB controllers are also supported for multiplayer.
Within the package, you may find a USB cable, HDMI cable, and power adapter as well as a type-C converter and TF card, well, probably depending on which edition you opt for…
Other interesting hardware elements include a built-in thick metal plate for a weighty feel. There are also airholes inside to dissipate any heat that may generate during play. If you pop the arcade stick open, it is quite organized inside.
Here are even more details for the tech savvy:
Upgraded S905 quad-core CPU chip
5-core Mali-450 graphics processor
4K / 1080p / 780p display
Appearance
The arcade stick bears a striking resemblance to the 8BitDo Arcade Stick, but that arcade stick originally derived its inspiration from classic Nintendo consoles and accessories anyway. That said, the arcade stick looks good regardless, and its rounded edges are pleasing to the eye. A minor pet peeve is that your unit may have text ink that is slightly smudged/blurry…
Conclusion
This Kinhank arcade stick and console that resembles the 8BitDo Arcade Stick is quite the bargain.
Diverse compatibility
Thick anti-slip pads
Weighted metal plate
Organized interior
Joystick and buttons could be better
Questionable presentation
Rating
⭐⭐⭐⭐
Link