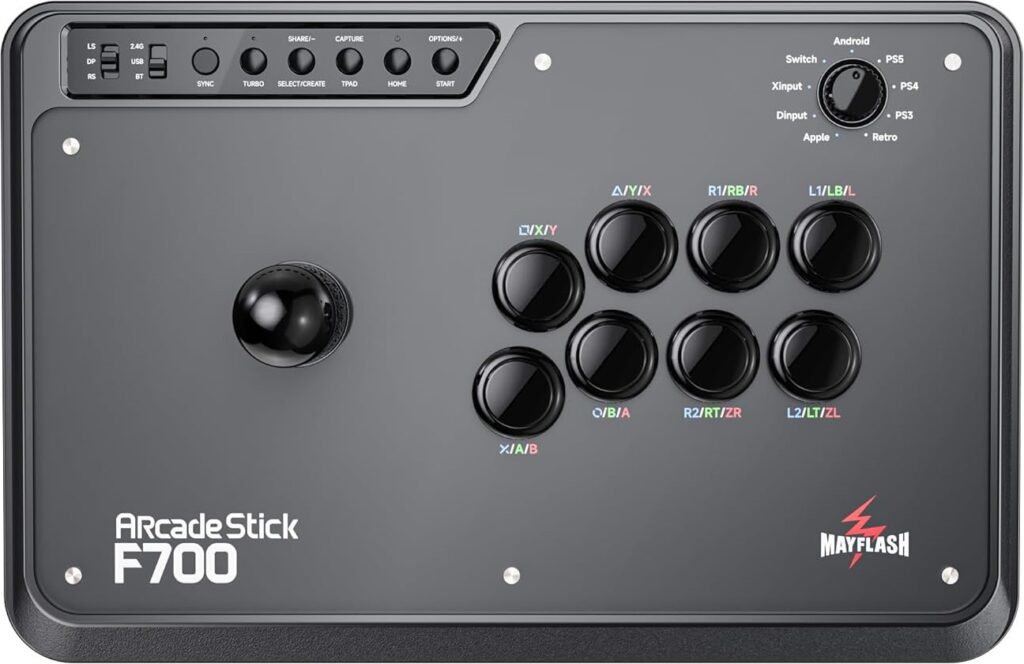 | | |
| --- | --- |
| Brand | Mayflash |
| Price | Amazon |
| Release | December 2023 |
| Compatibility | PS5 / PS4 / PS3 / XSX / XB1 / X360 / NS / PC / Android |
| Dimensions | 14.7″ x 9.7″ x 2.5″ |
| Weight | 7.5 lbs |
Preview
The Mayflash Arcade Stick F700 was revealed at the Tokyo Game Show. It is wireless through Bluetooth and has a built-in 1,000 mAh battery that can last up to 18 hours after a 3.5 hour charge, but you can also opt for a wired connection if you like. There is a headphone jack in addition.
The F700 is similar in design to previous fightsticks by Mayflash, but there are some differences, such as a knob on the upper right of the top panel to switch between consoles.
Here is what you can find on the upper left of the F700's top panel:
Sync LED
Turbo LED
Home/power LED
Mode switch
D-pad
Connection switch
Sync
Turbo
Share/select/create
Touchpad
Home
Options/start
The F700 has button labels for all three of PlayStation, Xbox, and Nintendo. The F700 might be a basic model after which an F700 Elite with Sanwa parts is released. The art is customizable, and we at The Arcade Stick can provide you our custom art service.
See Also