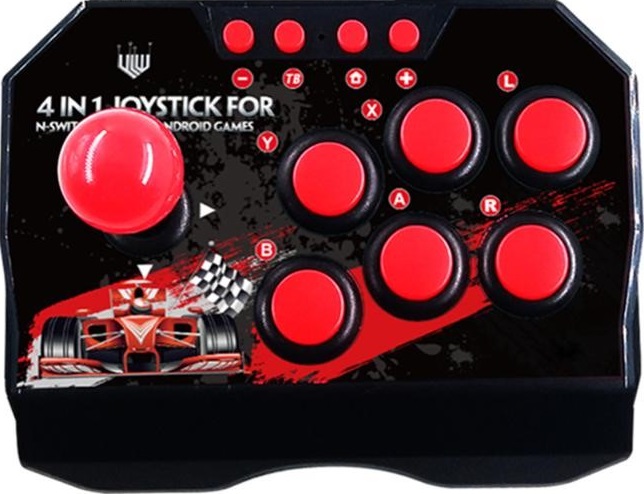 | | |
| --- | --- |
| Price | AliExpress / Amazon |
| Compatibility | NS / PS3 / PC / Android |
| Dimensions | 0.8″ x 0.6″ x 0.6″ |
| Cable | 3 m |
| Weight | 1.19 lbs |
Introduction
The 4 in 1 Joystick is an obscure mini arcade stick that is difficult to trace back to the original manufacturer but is available in many online stores. It is a clone of the Retro Arcade without the built-in games.
Performance
The buttons are labeled to match the Nintendo Switch's control scheme, and there is turbo support. As for the joystick, it needs to be handled with care to avoid breaking it. Furthermore, it is important to note that it only registers four-way inputs, so it can be considered obsolete for most modern fighting games.
On the bright side, there are suction cups for stability. Unlike other Switch innovations, the arcade stick is actually battery-free.
Hardware
The quality of the hardware can be described as below average. That somewhat makes sense as this arcade stick seems to be designed as a budget mini option primarily for the Switch. To open up this arcade stick, you are eight screws away from doing so.
Although its advertisement of being four-in-one is about its compatibility, you may struggle to connect this arcade stick to a PC. In case you are interested, the working voltage and current are 5 V and 20 mA respectively.
Appearance
There is not much going for this arcade stick in the aesthetics department, but the black-and-red color scheme is not bad, and the racecar artwork is intriguing to say the least!
Conclusion
The 4 in 1 Joystick can be summarized as a budget Nintendo Switch arcade stick for non-fighting games.
Limited joystick motion
Possible PC incompatibility
Rating
⭐⭐
Links