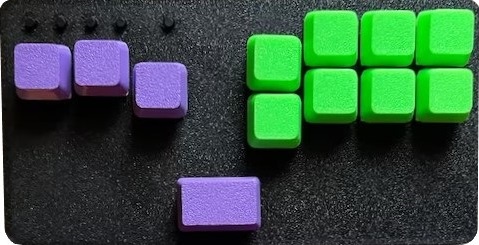 | | |
| --- | --- |
| Price | Etsy |
| Release | 2022 |
| Compatibility | PS5 / PS4 / NS / PC |
| Dimensions | 6.5″ x 3.3″ |
Editions
Performance
The Keybox, which is available in hitbox and mixbox formats, has keys/buttons that feel good to press. Its size and weight make it highly portable. The Keybox, of course, has SOCD cleaning. With a dozen orange mechanical switches and five function buttons, you should be able to set it up and customize it on Steam with some patience.
Hardware
This is a handmade all-keys controller comprised of PLA (polylactic acid), a type of polyester. The quality of the parts seems good, but the enclosure you receive may have a loose fit. However, this should be something you can fix yourself. Otherwise, Keybox Arcade should be able to fix this issue down the line. On the bright side, it is quite possible to pop open the Keybox if needed. In fact, the board is hot-swappable, so modding becomes easier.
PC connection can be achieved by connecting the Keybox to a PC through a USB type-C cable, which is not included. While the ability to do software remapping is appreciated, XInput would have probably been more convenient.
Appearance
The finish of the Keybox is quite clean. You can choose the primary color of the Keybox as well as its keycaps:
Black
Green
Pink
Purple
White
Yellow
Conclusion
The Keybox is a much appreciated addition to the mini hitbox and mixbox categories, and any flaws may be temporary.
Quite portable
Quite moddable
Variation options
Housing fit
Connection process
Rating
⭐⭐⭐⭐
Links