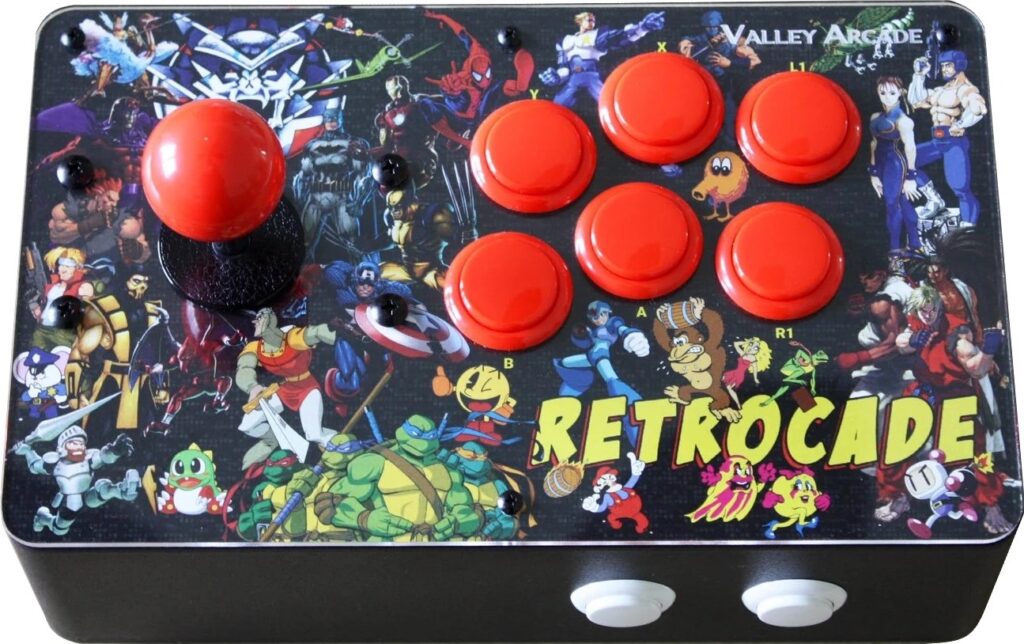 | | |
| --- | --- |
| Price | Etsy |
| Release | 2018 |
| Compatibility | PC |
Introduction
Valley Arcade presents the sequel to the Venture Retrocade, an arcade stick that can be used to play retro games and can also be used as a PC controller, allowing you to play the latest fighting games on PC with a USB extension cable. You can map the controls whichever way you prefer.
Otherwise, you can simply connect the Venture Retrocade II to a TV or monitor with your HDMI cable to play games like Street Fighter and thousands more. You can even emulate classic computer systems like the Commodore 64. Finally, you can use it as a media entertainment center for movies, shows, and music etc.
Performance
The Venture has a Sanwa joystick and buttons. There are six attack buttons in a Noir-esque layout. The other four buttons are on the sides to enjoy pinball games.
The Venture is small and light enough to be portable, but it is stable and durable enough to stand the test of time. It has a thick ABS (acrylonitrile butadiene styrene) plastic shell that is supposed to outperform its 3D-printed or laser-cut counterparts that are screwed or even glued together.
Hardware
The Venture features:
Raspberry Pi 4
Griff Plates
Encoder card
Custom acrylic control surface
Panel mount
External ports
USB port
Integrated controls
The Griff Plate is Valley Arcade's proprietary panel mount system, allowing one access to all of a computer's available ports from outside the chassis. Swapping cards becomes a simple task since the SD card is accessible via an access port found at the bottom of the unit.
The Raspberry Pi 4 single-board microcomputer packs processing power, memory, onboard wifi, Bluetooth, and four USB ports. RetroPie can be installed on the included 64 GB micro-SD card for free. The four USB ports are there to connect other accessories like a mouse and keyboard.
Here are some more interesting facts about the Venture:
Heat sinks were installed on the Raspberry Pi 4 for passive cooling.
A 30 mm is installed for active cooling and overclocking if wanted.
A 3.5 mm audio jack can be used for headsets or speakers instead of HDMI.
There is a built-in power/reset button for RetroPie's GPIO safe shutdown script.
A two-prong US power adapter is included.
Appearance
The Venture can be customized to your taste, such as through its custom art, which we can help you with through our custom artwork service. The Venture's control panel has a clear and impact-resistant cover. This transparent cover is beautiful and protects the artwork below. To beautify the Venture even more, LED is available upon request.
Conclusion
With the Venture, Valley Arcade presents what is truly a class act that is a delight for PC gamers and retro gamers alike.
Sanwa parts
Noir-like layout
Quality build
Connectivity options
Custom art
LED option
Retro gaming
Rating
⭐⭐⭐⭐⭐
Link