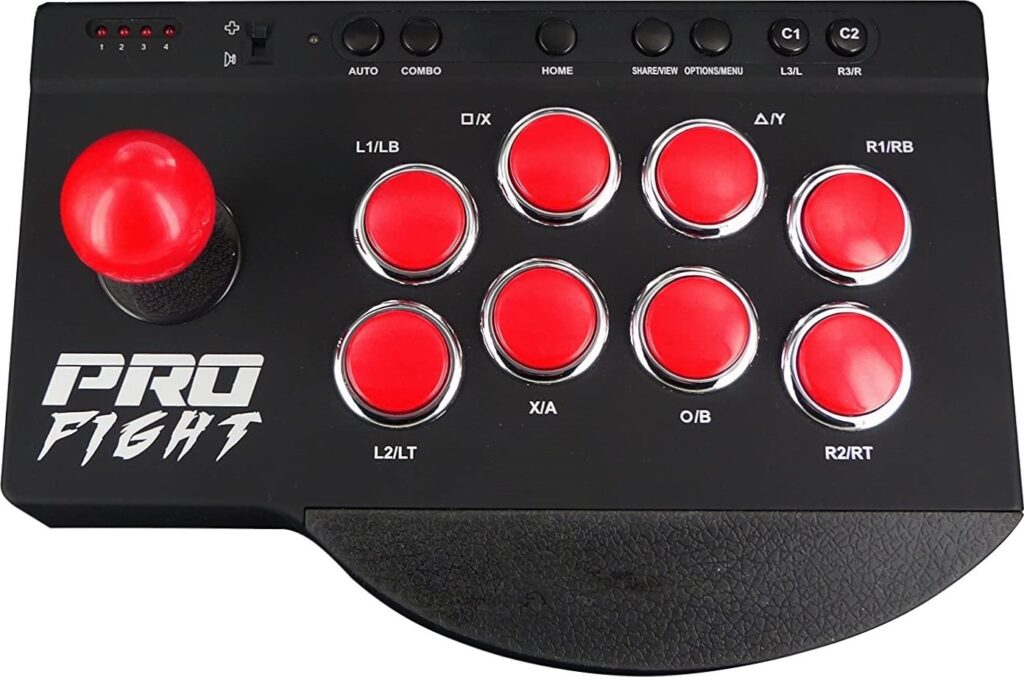 | | |
| --- | --- |
| Price | Power / Amazon |
| Release | May 28, 2017 |
| Compatibility | XSX / XB1 / PS4 / PS3 / PC |
| Size | 10.24″ x 7.48″ x 3.94″ |
| Cable | 3 m |
| Weight | 1.65 lbs |
Quick Facts
The Subsonic Pro Fight Arcade Stick is smaller than the average mini arcade stick.
This is a clone of the PXN-0082.
Performance
The Subsonic Pro Fight Arcade Stick has a steel joystick with microswitch contacts for accuracy and durability purposes. Joystick clicking sounds are good for feedback, but they seem overdone with this arcade stick.
The eight action buttons with leaf switches are supposed to be soft, quiet, and sensitive to the touch. Besides auto and combo, other secondary buttons include:
Home
Share/view
Options/menu
L3/L
R3/R
There is rubber covering the wrist space for maximal comfort despite the small size. For stability, suction cups were implemented, but they are too strong and can sometimes be tough to detach from a surface. The need for suction cups could have been eliminated by increasing the weight of the arcade stick. At least there were no latency or dead zone issues when testing this product…
Hardware
The build itself is fine, but native controllers are needed when playing on major consoles. You need to perfect the order of what you turn on first for the Subsonic SA5416 to actually work. It is even more of a hassle on the PlayStation because you need to turn it on and then turn on the arcade stick without turning on the controller.
Appearance
The SA5416 has an admittedly cheap and outdated look, and the black and red combination is not unfamiliar. The only interesting stylistic choice that Subsonic made with this arcade stick is the inclusion of wrist space on one side only, probably to limit weight.
Conclusion
The Subsonic Pro Fight is perhaps best described as a last resort if you are looking for a mini budget arcade stick.
No latency
No dead zone
Rubber padding
Joystick clickiness
Exaggerated suction
Connectivity hassle
Wrist rest
Rating
⭐⭐⭐
See Also