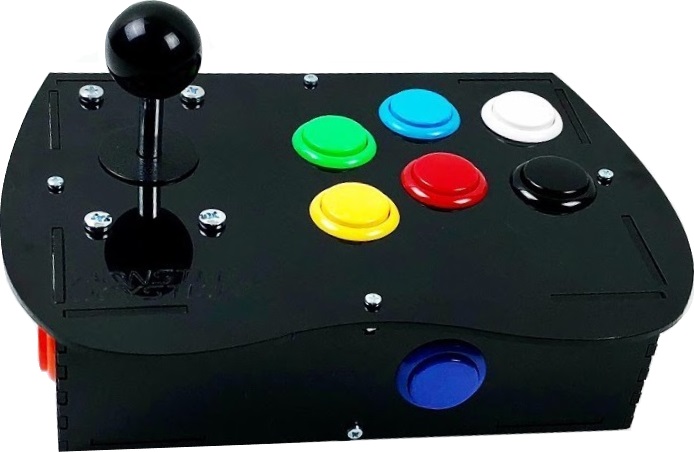 More from Monster Joysticks
Quick Facts
This Deluxe Arcade Controller Kit was designed for easy assembly and durability.
Included is a GPIO interface for the Raspberry Pi, a color-coded wiring loom, and all the necessary fixtures and fittings.
There are power, audio, ethernet, HDMI, and four USB ports.
Performance
The joystick is the Sanwa JLF-TP-8YT, and the buttons are the Sanwa OBSF-30. Needless to say, the performance is on point due to the high quality parts. Furthermore, the laser cut high-impact polystyrene (HIPS) shell should not dent during intense play. All in all, the performance packs a punch.
Hardware
Assembly only requires a screwdriver, so no soldering is needed, but needle-nose pliers may help. The GPIO interface uses two 8-bit parallel-to-serial shift registers to send input data to the Raspberry Pi, and it is compatible with models 4, 3B+, 3, 2, B+, and A+. It is also compatible with SNESDev drivers and included in the RetroPie software suite.
The USB connection allows the V2.0 adapter to be used as a standalone interface board. Otherwise, it can be mounted onto a Raspberry Pi to use the arcade stick as a USB arcade stick even when the Raspberry Pi is not used. You can connect multiple kits to one kit with Raspberry Pi installed or a PC/Mac/Linux for multiplayer. The adapter is available with and without a wiring harness.
Appearance
Depending on which of the many options you go for, the aesthetics of your arcade stick may be better or worse. For the most part, these arcade sticks have well made components that share a minimalistic touch.
Conclusion
Although Monster Joysticks are great, they are not high end per se, and compatibility is limited.
Easy assembly
Color-coded wiring
Sanwa parts
HIPS hardware
No soldering needed
Unique compatibility
Diverse ports
Durability
Rating
⭐⭐⭐⭐
See Also