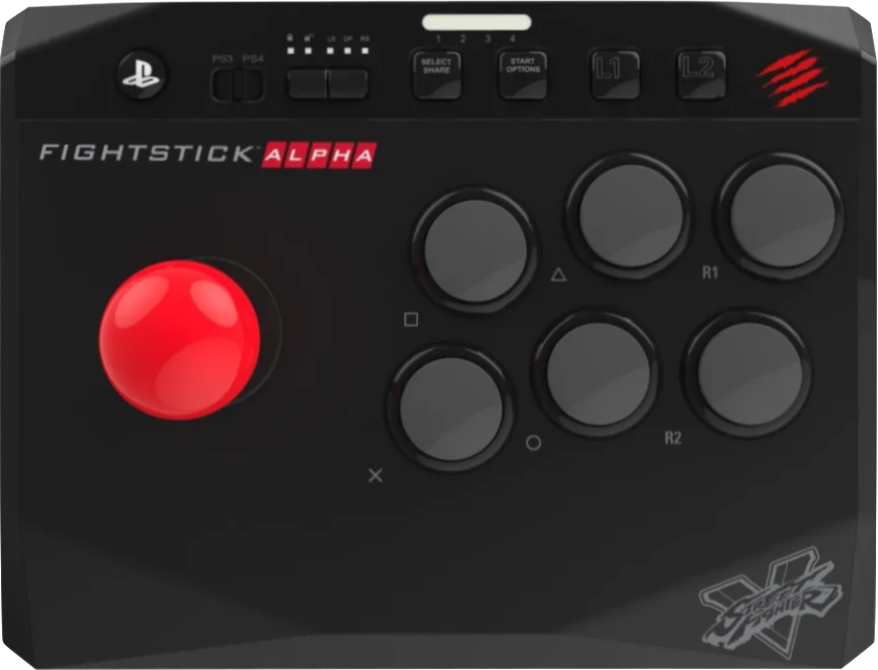 | | |
| --- | --- |
| Price | Amazon |
| Release | December 3, 2015 |
| Compatibility | PS5 / PS4 / PS3 / PC |
| Dimensions | 5.5" x 9.8" x 8.2" |
| Cable | 3 m |
| Weight | 2.40 lbs |
Quick Facts
The features remain full sized.
The Vewlix layout was allegedly retained.
Performance
There is no solid way to stabilize Street Fighter V Arcade FightStick Alpha on one's lap. One way is balancing it on one leg. Another way is to tightly squeeze one's legs together. Both options are uncomfortable. The foam padding does not help as much, even when the unit is placed on a flat surface. In addition, it is questionable why Mad Catz did not opt for the usual Sanwa joystick and buttons. The angling of the buttons does not suffice. The arcade stick is stiff and loud. The result is poorer performance. Also, the new layout feels unfamiliar.
Hardware
The lightweight feel of the Alpha is quite nice. However, modification is a problem as the joystick and buttons were directly soldered onto the panel. While modding is possible, it is far from convenient, especially when compared to other state-of-the-art counterparts. It is only recommended for seasoned modders to tamper with this toy or simply take the unit to a professional.
Appearance
The Alpha goes for a minimalistic design with some flair. It makes sense given that the arcade stick itself is supposed to be simple in concept. The combination of black and red with some gray is pleasing to the eye, and the finish was quite well done. A couple of logos and texts here and there go a long way to give the arcade stick some nuance. However, there is nothing too impressive with the visuals, especially compared to other units by the company. Even arcade sticks by the company from the previous generation of consoles had more action going on.
Conclusion
The Alpha is not the first subpar fightstick to emerge in the market, but it is almost impossible to install better parts.
Highly portable
Cool visuals
Weaker performance
Hardly moddable
Rating
⭐⭐⭐
Link