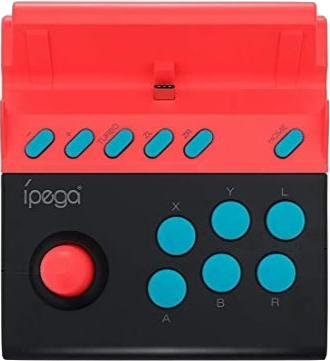 | | |
| --- | --- |
| Price | AliExpress |
| Release | June 3, 2019 |
| Compatibility | NS / PC |
| Dimensions | 5.5" x 4.9" x 2.0" |
| Weight | 0.41 lbs |
Quick Facts
This is a smaller arcade stick than a mini arcade stick.
There are home and turbo buttons.
It is also compatible with the Nintendo Switch Lite.
Performance
The buttons of the Ipega-9136 are responsive, and the joystick is not bad. In addition, the arcade stick is durable and also anti-slip due to little rubber feet at the bottom. However, a little more width before reaching the Joy Cons would have been nicer to enlarge the joystick and buttons. For maximum comfort, place the arcade stick on a desk. The arcade stick derives its charge from the Nintendo Switch.
The fact that the B/A and Y/X buttons are reversed can be remedied by custom button mapping, which is available for most games and especially available after Nintendo's update. Otherwise, the button layout is akin to that of Xbox, and constant remapping is a hassle. There are no firmware updates. At least the connection with the Switch is stable.
Hardware
The unit is light, but it does not feel cheap. It is easy to set up. You can dock the Switch on to get the controls, and instructions are included. It is compact, lightweight, and portable. Make sure that wired communication is on before you actually use it.
Appearance
The arcade stick looks quite nice, but truth be said, there is not much real estate for elaborate artwork. Regardless, there are enough Switch influences in the color scheme, and there are enough nuances to distinguish it from an official Nintendo product while giving it an Ipega touch.
Otherwise, with the Switch docked, there is undeniable satisfaction to looking at what appears to be almost an official little arcade cabinet that can surely revive some nostalgia.
Conclusion
The performance is good, the arcade stick does not move around despite its lightness, and it is simply synergetic with the Switch. The remapping hassle is negligible given the other upsides.
Responsive buttons
High durability
Very stable
Excellent weight
Perfect fit
Compromised real estate
Button remapping need
Questionable Xbox layout
No firmware updates
Rating
⭐⭐⭐⭐
Links