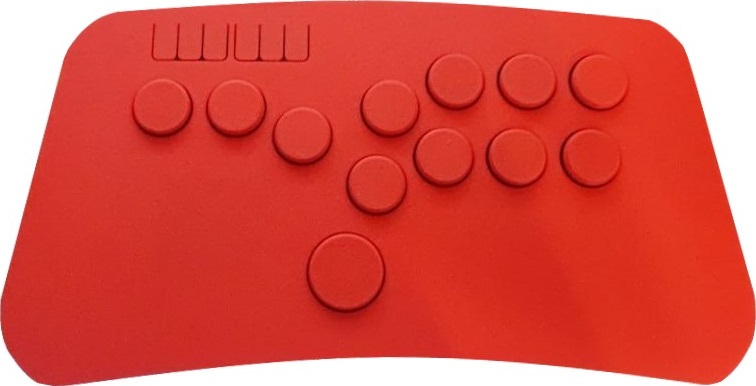 | | |
| --- | --- |
| Brand | SaveYourGames |
| Release | October 18, 2022 |
| Compatibility | PS5 / PS4 / PS3 / PSC / XSX / XB1 / X360 / NS / WU / PC |
| Dimensions | 11.3″ x 6.1″ x 0.5″ |
Introduction
Italy's SaveYourGames (SYG) brings you the Impact all-buttons controller that can come with a Brook printed circuit board (PCB) and Kailh switches.
Performance
The Impact's buttons & switches can be chosen as per your preference, and the performance is great. This controller has a textured surface that is pleasant to the touch. Even the bottom is textured in a way that provides stability.
Speaking of which, it is impressive how the Impact is stable on even a table despite being small. Of course, it should be able to fit on top of your lap too.
The controller provides you six secondary buttons on the upper left. Also, the jump button is classically bigger than the rest. Any warping in the 3D-printed body is likely just visual and should not affect your gameplay consistency aside from a slight wobble.
Hardware
The Impact is sturdy, but if you press on the Impact too hard, it may seem malleable. However, there is no practical use to press on a hitbox that hard during play anyway. Now, to pop this bad boy open, you are several screws away.
It is impressive how the Impact can fit a Brook UFB-UP5 printed circuit board (PCB) despite its slimness, and by the way, you will probably get extra buttons & switches with your Impact.
Appearance
The Impact shown is fully red, including the USB-C cable, although the cable has black accents here and there, which can add some nuance. Regardless, you can choose the color of the case and buttons like:
Black
Blue
Gray
Green
Light blue
Orange
Pink
Yellow
As for the cable, it can be black, blue, green, yellow, or maybe another available color. One more thing worth adding is that SYG did a great job making the secondary buttons look almost hidden, so they blend in with the 3D-printed case.
Conclusion
The SYG Impact is a lifesaver for those looking for similar mini hitbox solutions in Europe and beyond.
Customizable
Portable
Slim yet multiplatform
Comfortable anywhere
Pleasing texture
Rating
⭐⭐⭐⭐⭐
See Also