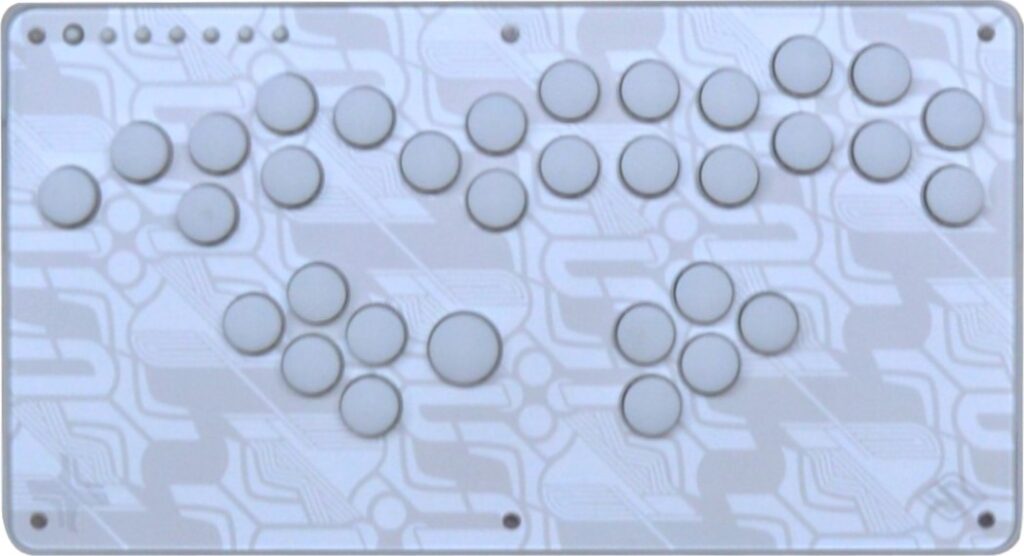 Preview
The Glyph is a collaboration between Limit Labs and Satisfye. It is a controller with more buttons than you have probably ever seen on similar controllers, but do not be overwhelmed: the primary layout is meant to fit different layouts in one.
The Glyph is brought to you by some of the Smash community's legends of the box/rectangle controller scene, including Matt Crane, Matt Samperi, Jake Johnson, Philip Brand, and Charlie Wheeler. The controller was inspired by Crane's C53 prototype, and Crane is the creative lead of this ambitious project. Haystack built upon the preexisting Haybox firmware. The Glyph's firmware remembers your preferences per console.
The Glyph actually has more than one layout, including a hitbox layout titled FGC. Here is the list of layouts:
Full
Platform fighter
FGC
Split FGC
Custom
If you are already impressed, wait till you read this: the Glyph is a modular controller that allows you to change layouts within minutes! You just need to remove the magnetic layout panel, hot-swap the relevant switches, and insert the new panel.
Even the art can be swapped out in seconds, and the RGB LED can be adjusted on the go, including color, brightness, and animation. The expansion bays are built-in, the firmware is open-source, and templates are publicly available.
Glyphs come with Nintendo Switch, Wii, GameCube, and PC support. If you opt for the retro cable pack, you get Nintendo 64, SNES, and NES compatibility as well. Brook Wingman adapters are supported too for compatibility with the PlayStation 5, Xbox Series X, and so on.
The Glyph has custom PBT keycaps and Gateron G Pro 3.0 Silver linear switches known for light actuation, a short stroke, and lube for smooth inputs. If you have another preference, MX-compatible switches are viable using the key pulling tool without soldering. Each Glyph cable has its own stress-relief anchor to protect the USB-C port.
Regarding the Glyph's hardware:
Shatter-resistant polycarbonate panels that are transparent with additional scratch-resistant coating
Premium aluminum rear-shell that is rigid without sacrificing lightness
Water-resistant polyester art sheets
The basic Glyph bundle features a shell powder-coated in arctic white. The Glyph founder bundle has anodized gold instead. You can choose the colors of the aluminum rear shells, keycaps, menu buttons, cable anchors, and rubberized rear grips. We at The Arcade Stick can provide you custom art as a third party.
More interesting Glyph design elements:
Threaded metal inserts and Torx-head screws to mod the Glyph more easily
Only one Torx size to disassemble the Glyph with a single tool
USB port that is mounted on a separate PCB for easy replacement
Open-source pinouts and CAD models for custom expansion modules
Dual expansion bays for future accessories
Removable rear grips
You can pack your Glyph in a folio that comes with every bundle. It is made of felt and has an elastic strap over the notched flap. The elite case features a rugged protective shell and velour lining. Inside, there is storage for the Glyph, layout plates, art sheets, four cable tie-downs, and two zipper pouches.
See Also