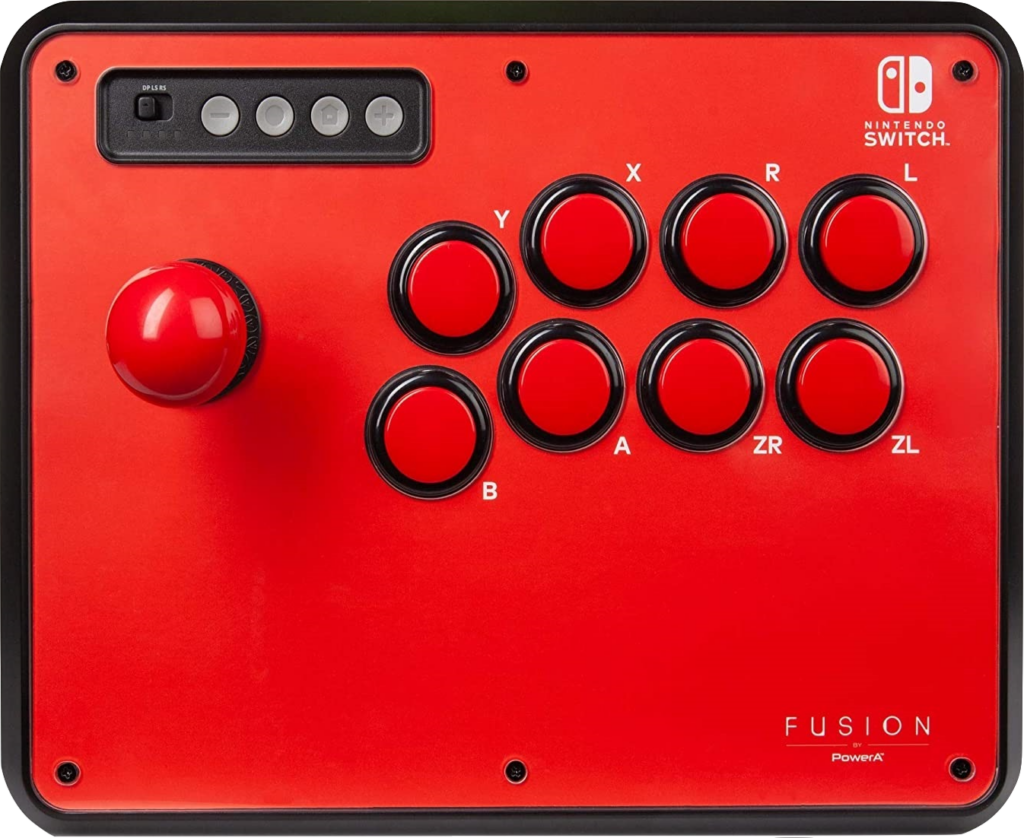 | | |
| --- | --- |
| Price | Amazon |
| Release | October 20, 2020 |
| Compatibility | NS / PC |
| Dimensions | 11.3" x 9.0" x 4.5" |
| Cable | 3 m |
| Weight | 5.27 lbs |
Quick Facts
Play wireless or with a USB-C cable.
Two AA alkaline batteries are included.
Batteries last up to 30 hours.
A front storage area is where the cable is plugged.
The buttons are full sized.
The joystick has a toggle switch for D-pad, left stick, and right stick modes.
The solid build is reinforced with metal.
There are rubber feet to provide stability.
Modders can design and print their own face cards using a downloadable template.
The second artwork option is primarily black.
Performance
The joystick is not super loose, but it produces unusual sounds that might make you think there is something wrong. To optimize your experience with the Fusion Wireless Arcade Stick, you may need to replace not only the joystick but also the stiff buttons that need you to press them hard. Their switches also make clicking sounds reminiscent of a keyboard. To add insult to injury, each button sounds different.
Luckily, the joystick seems like a Sanwa clone that makes it easy to replace with an actual Sanwa joystick. Otherwise, the buttons shouldn't be hard to replace as well. On a more positive note, there were no latency issues detected while using this arcade stick wired or wireless.
Hardware
Joystick and buttons aside, it is clear that this arcade stick was made with quality parts. It has a satisfying weight despite being a mini arcade stick, and the features are full sized. The wrist resting space is comfortable. The joystick can actually be unscrewed to place in the storage area during transport.
Regarding battery life, the arcade stick itself lasts a long time wireless, but it may drain the Nintendo Switch quickly through USB-C. Surprisingly, Bluetooth is more energy efficient, but you have to charge the Fusion separately.
Appearance
The arcade stick is quite beautiful with its glossy red finish that is uncommon in the arcade stick world despite red being a common color all around. PowerA was thoughtful enough to add another option that is black and almost psychedelic. The artwork can easily be replaced. You can get your own design through our custom artwork service.
Conclusion
It seems like PowerA's quality control is not the best, so your order may arrive slightly damaged and affect your experience negatively. If you are tech savvy and can switch the joystick and buttons to Sanwa upon receipt, your experience may be elevated.
So many options
Long lasting batteries
Clicky joystick
Stiff buttons
Rating
⭐⭐⭐
Links