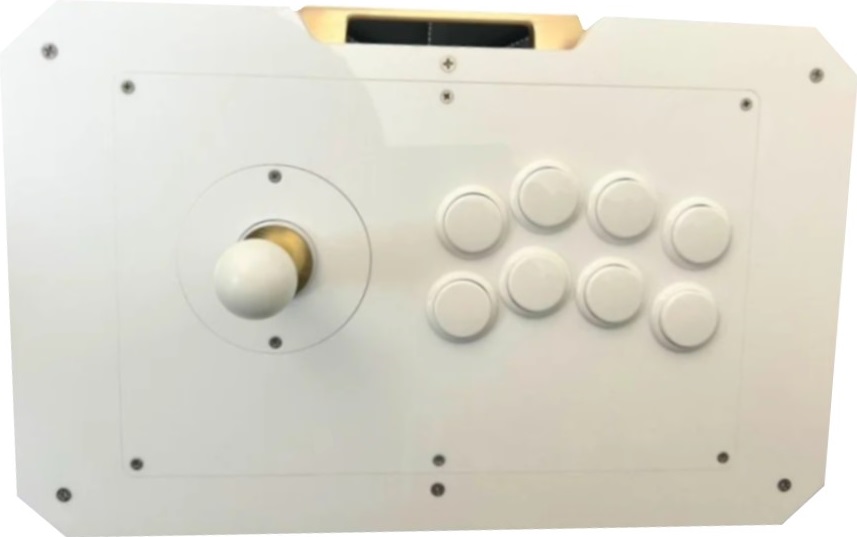 | | |
| --- | --- |
| Price | ASIndo.pro |
| Release | 2022 |
| Compatibility | PS5 / PS4 / PS3 / PSC / XSX / XB1 / X360 / NS / WU / PC |
| Dimensions | 15″ x 9.5″ x 2.5″ |
| Weight | 5.5 lbs |
Introduction
Although simpler in design, the VM6 is the spiritual successor to the VS1R. It can be ordered in fightstick or mixbox format. You can have a joystick installed or the proprietary Iris WASD solution. The Iris TU variation is optional.
Performance
The VM6 has a Sanwa JLF mount for the joystick, and Sanwa joysticks are known for their responsivity. The buttons are 30 mm, and there are 14 holes for them. There are three auxiliary buttons on each side, and it is up to you to assign their functions. Noir and Vewlix layouts are available for the face buttons.
There are anti-slip mats for each leg since most players seem to play with their arcade controllers on their laps. What is interesting is that the hexagonal shapes on the mats seem to enhance stability even further.
The star of the show, however, is the proprietary Iris Tech, which allows the player to rotate the lever 1° to 5° to change its diagonal location. It can even be rotated 15° to the left or right. As for the mixbox edition, you can rotate the WASD keys 30° to the left or right. When it comes to the TU module, it allows an entire 360° rotation.
Iris Tech can simply be summarized as technology that enables you to swap between a 24 mm Japanese lever, 35 mm Korean lever, and the Iris WASD with ease.
Hardware
This case, which can be ordered preassembled as well, is CNC-machined from an 8 mm HDPE sheet and covered with 3 mm acrylic for a beautiful, clean finish. The VM6's modular layout cover allows you to easily switch between button layouts. Opening the case requires a screwdriver. Otherwise, you can carry the VM6 using the handle if you like. In fact, it has a briefcase-like presentation.
Other hardware elements include:
Mounting for a Brook PCB
Two Neutrix port holes
Included USB-B port
Included atenna mount
Appearance
The VM6 is simply gorgeous and can be wiped down with a microfiber cloth from time to time so that there are no fingerprint smudges and such.
The available colors are:
White gold
White silver
Black gold
Black silver
There are Iris and handle engravement (laser marking) options. In addition, you can apply custom art onto the VM6, which we can provide you here at The Arcade Stick through our custom art service. You can even get a clear cover for all sides of the VM6 for a more inclusive art experience.
Conclusion
The VM6 is the expected class act by ASIndo.pro, and it is a worthy sequel to the critically acclaimed VS1R case.
Different formats
Case or full build available
Sanwa JLF mount
Modular layout
Anti-slip mats
Carriage handle
Brook PCB compatible
Iris Tech
Color options
Engraving options
Custom art
Rating
⭐⭐⭐⭐⭐
See Also