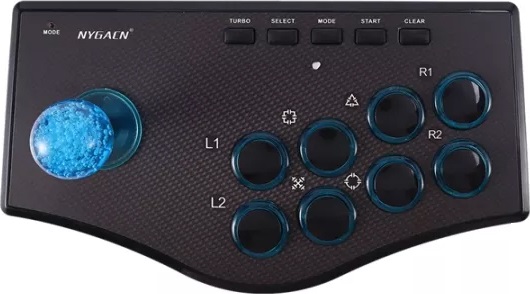 | | |
| --- | --- |
| Price | AliExpress |
| Release | 2016 |
| Compatibility | PS3 / PS2 / PC / Android |
| Dimensions | 11.8″ x 7.5" x 4.3″ |
| Cable | 1.8 m |
| Weight | 1.90 lbs |
Quick Facts
The NJP-308 has turbo and clear buttons.
Available is a NJP-308A edition that lacks PlayStation 2 compatibility.
Also available is a Mortal Kombat edition.
Performance
The joystick is fairly responsive, but it may sometimes feel sluggish and also screw off during heated play. Otherwise, it produces nice clicking sounds. The buttons feel mushy and have an awkward travel distance, and their layout is not the most ergonomic. Furthermore, there is little to no wrist space for comfort. Finally, the suction cups may be hit or miss depending on your playstyle and what surface you pay on.
Hardware
The unit is overall lightweight and plastic feeling. The material is actually acrylonitrile butadiene styrene (ABS). The turbo and clear buttons may not work depending on whether your unit is defected. Included is a cable to connect to the PlayStation 2.
Appearance
The arcade stick looks quite nice with its uncommon combination of black and blue, especially with the blue rings around the buttons. Also, the joystick has a bubbly appearance as there appear to be bubbles within the see-through ball-top.
Conclusion
It looks cool and is lightweight, but unreliable performance and hardware mar its potential.
Quite lightweight
Cool look
Spotty performance
Unreliable hardware
Rating
⭐⭐
Links