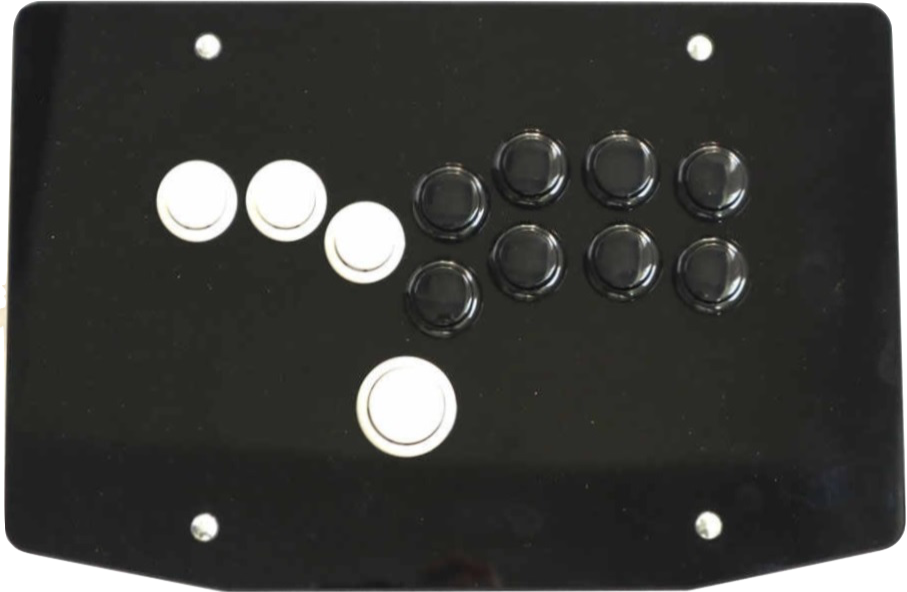 | | |
| --- | --- |
| Price | AliExpress |
| Compatibility | NS / PS4 / PC |
| Dimensions | 11.8" x 7.9" x 2.6" |
| Cable | 1.8 m |
| Weight | 1.75 lbs |
Editions
Performance
The RAC-J500B features face buttons for both directions and attacks. The jump button is larger than the rest of the buttons, which is standard for hitboxes.
The buttons sit taller than standard Sanwa buttons, and you may struggle to register simultaneous button inputs, such as in Tekken. The buttons are firm to press and produce a noticeable sound. Included is SOCD cleaning to make pressing left and right result in neutral.
The suction cups work well on a surface that is not covered with something like fabric or a pad. The controller may slide around on surfaces that are covered if you play aggressively. Luckily, you may be able to remove the suction cups with ease. As for the case's shape, there is a slight chance the controller may want to tilt over as your rest your palms on it.
Hardware
Opening up the case is easy with any tool that works for you. There are four bolts with nuts to remove to reveal the neat interior with wires leading to a Zero Delay Encoder PCB (printed circuit board). You will also find hooks in each corner for each suction cup.
Halfway through the process of removing the bolts, you may resort to just your fingers, which is convenient. After you are done with the internals, when you assemble the RAC-J500B back together, you may want to tighten the bolts extra firmly to ensure that no accidents happen during play.
Besides that, the case is not bad. It is made of a hard plastic that might be durable but smudges easily. The unit itself is sized in between a regular controller and mini controller, and it is light. As for the buttons, if you can replace them with higher quality ones, the RAC-J500B can be quite good. The interior is quite spacious, indicative that the RAC-J500B may be a good recipient of different mods in general.
Appearance
The plastic case looks okay, but the smudging requires that you always have a cleaning cloth at hand to maintain the aesthetics. On the bright side, you can choose the colors of the buttons when ordering the RAC-J500B:
Black
Blue
Green
Red
White
Yellow
Conclusion
This is budget controller is a decent option if you would like to try hitboxes.
Durable case
Convenient size
Lightweight
Easy to open
Simple interior
SOCD cleaner
Color options
Button quality
Case smudges
Rating
⭐⭐⭐
Links