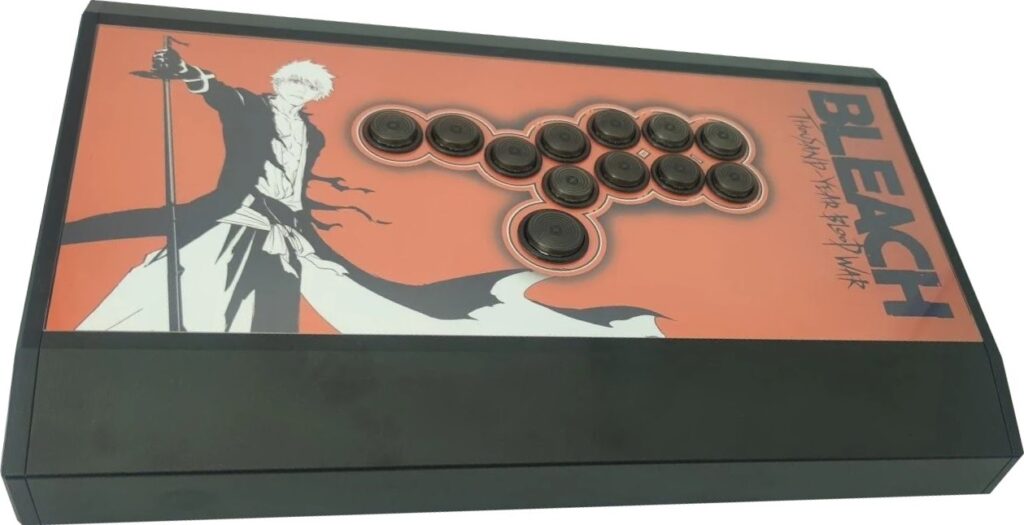 | | |
| --- | --- |
| Price | Acrycade Gear |
| Release | October 10, 2022 |
| Compatibility | PS5 / PS4 / PS3 / PSC / XSX / XB1 / X360 / NS / WU / PC |
| Dimensions | 16.5″ x 10.2″ x 2.8″ |
| Weight | 10.78 lbs |
Other Editions
Overview
Musato/Masuto is supposed to mean "warrior awakening". It is also the name of Acrycade Gear's high end controller, which is made of a heavier aluminum block compared to Acrycade Gear's previous innovation from 2020. Furthermore, the bottom panel, which is held by five pieces of magnets, is removeable to easily access the interior for switching up or upgrading parts.
Thanks to the screw-less design, the surface is clean and sleek-looking. In addition, the side panels seem to allow light to shine through them. Finally, the top panel has acrylic for the easy installation of custom art, which we can provide here at The Arcade Stick through our custom artwork service.
You can upload our digital art file to Acrycade Gear's website. Otherwise, the primary colors of the Musato are black or gun metal. You can also choose to add Sanwa buttons, unless you go for clear or metallic buttons.
For the Musato All Buttons Fighting Stick (Hitbox Style) edition, it seems that all buttons are 24 mm, except for the jump button being 30 mm, a combo that has become the industry standard. Six auxiliary buttons can be found in the back.
All printed circuit boards (PCBs) support SOCD cleaning to avoid simultaneous button presses registering illegally. Here are the choices at your disposal:
PC
SG PS4
Brook XB
Brook UFB
Brook UFB & UFB-UP5
Brook PS4+ Audio & UFB-UP5
Your best compatibility option is the Brook Universal Fighting Board (UFB) with the UFB-UP5 attachment. Additional customizational requests, whether they involve buttons, LED, and so on, can be arranged by Acrycade Gear.
See Also