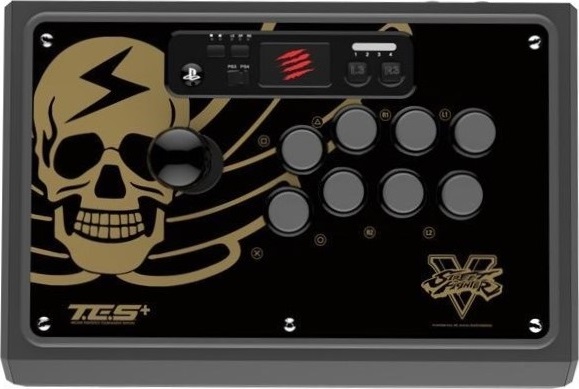 | | |
| --- | --- |
| Price | eBay |
| Release | December 3, 2015 |
| Compatibility | PS5 / PS4 / PS3 / PC |
| Dimensions | 18.8" x 13.0" x 6.0" |
| Cable | 3 m |
| Weight | 4.43 lbs |
Quick Facts
The Vewlix layout remains.
The USB connection is allegedly low latency.
Performance
The Street Fighter V Arcade FightStick TES+ has a solid performance all around. The joystick is flexible enough, but not wobbly. The buttons have just the right amount of depth. The layout is as comfortable as the original counterpart from the previous generation. The underside padding ensures that the arcade stick stays in place whether it is placed on one's lap, a table, or any other reasonable surface.
Hardware
It is quite the sizeable arcade stick. However, that does not pose any obstacles besides a minor inconvenience when carrying the arcade stick around during tournaments. The USB cable is fixed, and there is a designated compartment for it. Unfortunately, one cannot pop open the lid like it is possible with the pricier sister unit. However, this justifies the relative drop in price. Regardless, modding is quite easy should one want to change the buttons, joystick, or gate despite the fact that the preexisting parts are quite good.
Appearance
While it is not as bright as the other higher end arcade sticks from the company, the design is quite interesting with a Shadaloo touch comprised of black and gold, and the inclusion of this type of artwork is relevant due to the emphasis of Street Fighter V's revolutionary story on Shadaloo. The shape of the unit is symmetrical and satisfying.
Unfortunately, modding the artwork can be quite hard as it would involve replacing the top panel completely in most cases Fortunately, it is improbable that many players would want to change the stock artwork due to how nice it is. However, if you do want to change the art, we at The Arcade Stick can help you through our custom art service.
Conclusion
Minor issues aside, the Street Fighter V Arcade FightStick TES+ performs well and also looks good.
Solid performance
Good looking
Rating
⭐⭐⭐⭐
See Also