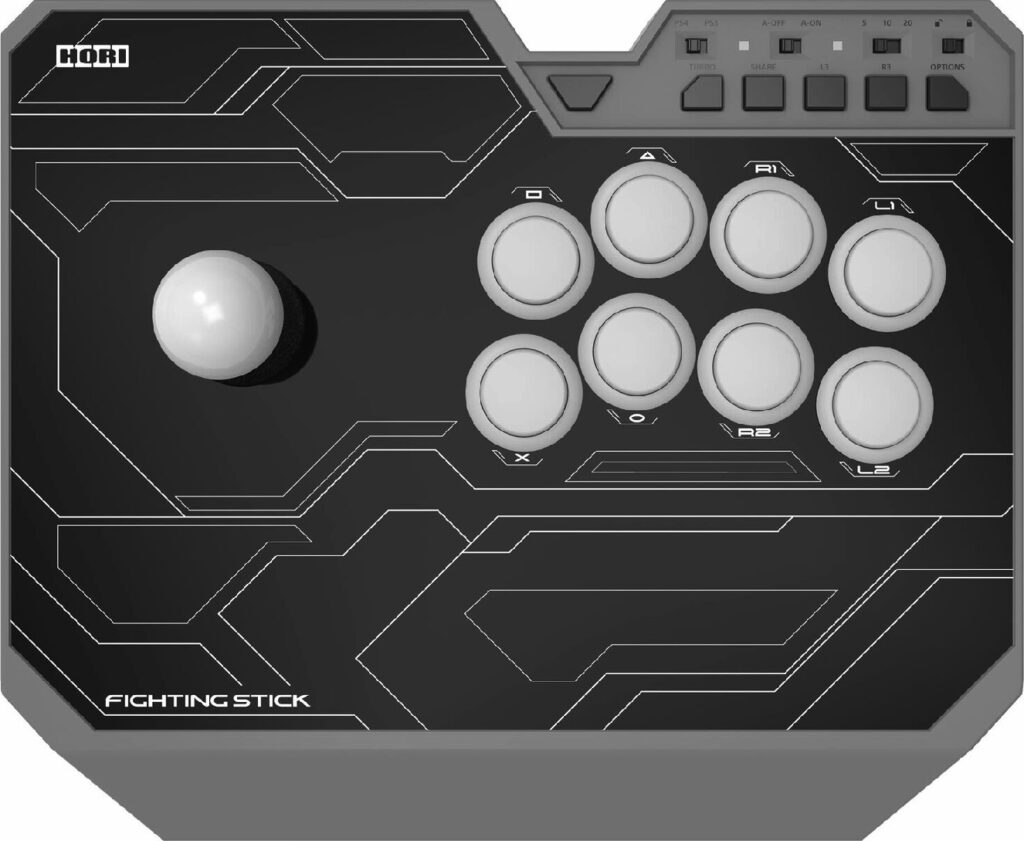 | | |
| --- | --- |
| Price | Amazon |
| Release | June 2019 |
| Compatibility | PS4 / PS3 / PC |
| Dimensions | 13.2" x 9.1" x 4.3" |
| Cable | 3 m |
| Weight | 3.31 lbs |
Quick Facts
Featured is a revolutionary magnetic cable cover.
There is a turbo function.
Button function switching is possible.
Hardware switching is also possible.
Performance
Although the Hori Fighting Stick is quite small in size, the parts are the same size found in an actual arcade cabinet. The joystick and buttons feel just fine, and the wrist space is not compromised. Features such as turbo are present. Options include 5, 10, or 20 times per second. By toggling the assign mode switch, the functions of other buttons can be assigned to the L1, L2, or options button or disabled entirely.
Hardware
The best hardware aspect about this arcade stick is the fact that it combines compactness and comfort in one. In other words, it does a great job being a compact arcade stick, but it is also comfortable to use. The cable can be detached and placed inside, and there is a headphone jack on the side. However, there is no touchpad to be seen. As for modding, the joystick and buttons can be replaced.
Appearance
The Hori Fighting Stick is quite the specimen when it comes to aesthetics. It has pleasing shades of gray that give it a modern look. In addition, geometrical shapes that fill out the artwork add to the sophisticated feel of it. However, some might find the overall look to be bland, but to each his own.
It is worth mentioning, however, that the arcade stick definitely lacks that certain glow that some other arcade sticks have. Thus, some might consider the arcade stick to look a bit dull. In any case, it should stand out among others…
Conclusion
The Fighting Stick seems to be a sort of prototype for other Hori fightsticks, such as the Fighting Stick Mini.
Compact yet convenient
Unique artwork
No touchpad
Slightly dull
Rating
⭐⭐⭐
Links