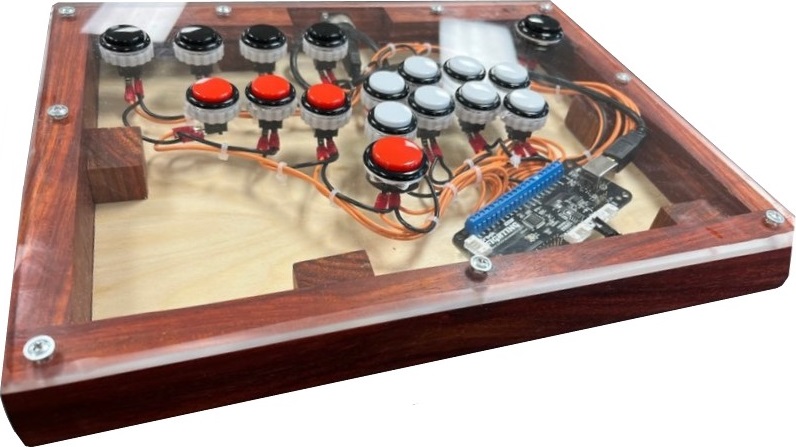 | | |
| --- | --- |
| Price | Etsy |
| Compatibility | PS5 / PS4 / PS3 / PSC / XSX / XB1 / X360 / NS / WU / PC |
| Size | 14″ x 10″ x 1.75″ |
Introduction
The Black/Clear Acrylic Buttonbox by 2nd Stage Creations lets you choose its specifications, such as ordering the case alone or getting one of the following printed circuit boards (PCBs) along with it:
Brook Zero-Pi
Brook PS4+ Audio
Brook Universal Fighting Board (UFB)
The controller can also be compatible with the Neogeo Mini and Sega Genesis Mini.
Performance
The primary buttons are Sanwa, and the secondary buttons are usually EG STARTS. If you are ordering the case alone, Marcus from 2nd Stage Creations recommends that you go for lower profile buttons so they fit inside. Otherwise, you can request to make the case taller to accommodate taller buttons. The stock Sanwa buttons should feel just fine, the controller is big enough to accommodate your wrists, and the anti-slip pad at the bottom is helpful.
Hardware
The frame is handcrafted, and each unit is made to order, which allows for customization requests, such as the layout of the buttons and the color of the wiring in the clear versions. The top of the case is made of a ¼" thick durable acrylic sheet that was designed to open from the top for easy access to the internal components. Plastic, steel, and rubber also comprise the controller.
There are no screws at the bottom that could otherwise discomfort your precious lap or even scratch your tables. However, you should still handle the controller with care, such as if you unplug the USB cable (which you would have to buy). On the bright side, there is a rubber cover on the USB port to avoid dirt getting in there.
Appearance
The acrylic top is easy to clean. You can also choose from the following wood types:
Clear oak
Clear padauk
Clear purpleheart
Black oak
Black padauk
Black purpleheart
White and black buttons are usually in stock, but if you have a certain color in mind, you can let 2nd Stage Creations know to see if it is available.
Conclusion
This button box is customizable with beautiful acrylic as well as high quality Sanwa buttons.
Beautiful acrylic
Quite customizable
Sanwa buttons
Rating
⭐⭐⭐⭐⭐
Link