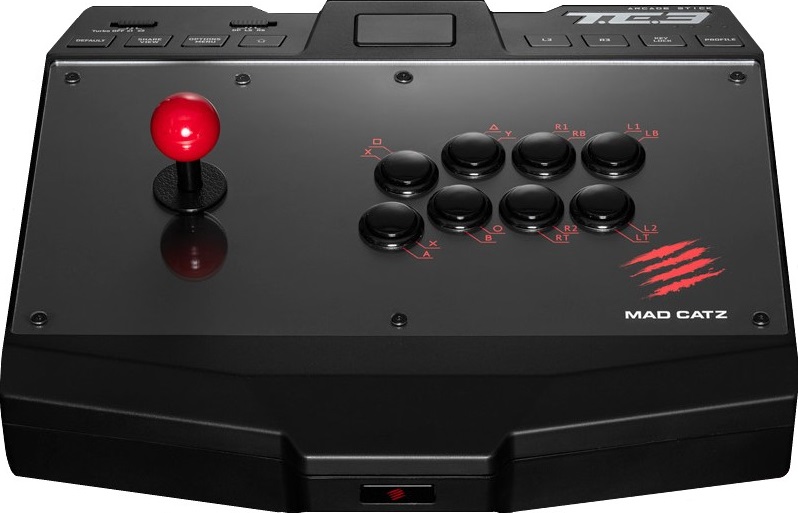 | | |
| --- | --- |
| Brand | Mad Catz |
| Price | Walmart |
| Compatibility | XSX / XB1 / NS / PS4 / PC |
| Dimensions | 15.5″ x 14.1″ x 3.8″ |
| Cable | 1 m |
| Weight | 8.58 lbs |
Overview
At CES 2022, Mad Catz announced its new innovation, the T.E.3 Arcade Fight Stick, which stands for Tournament Edition 3. It is an arcade stick with a Sanwa octagonal-gate joystick and Sanwa buttons in the Vewlix layout. There are two additional buttons as programmable hotkeys.
Here is a list of the secondary buttons:
Default
Share view
PS4
Up arrow
L3
R3
Key lock
Profile
The key lock disables the pause button, serving as a tournament mode. There is also a touchpad and a 3.5 mm audio jack. There are two optional turbo speeds as well as a toggle for D-pad, left stick, and right stick.
The Mad Catz arcade stick was designed with placing it on the player's lap in mind, but it should be able to sit on a table or desk as well. It also has a handle and attachable shoulder ring for easy carriage.
Inside, you can store the detachable cables and repair tool, which is made easier due to the easy-to-mod chassis that allows access to the inner components for replacement and so on.
The cable for PlayStation is USB-C, the cable for PC is USB-A. You need a native controller on consoles to make the arcade stick work.
The faceplate of the arcade stick is swappable, meaning the artwork is customizable. We at The Arcade Stick have a custom artwork service.
See Also