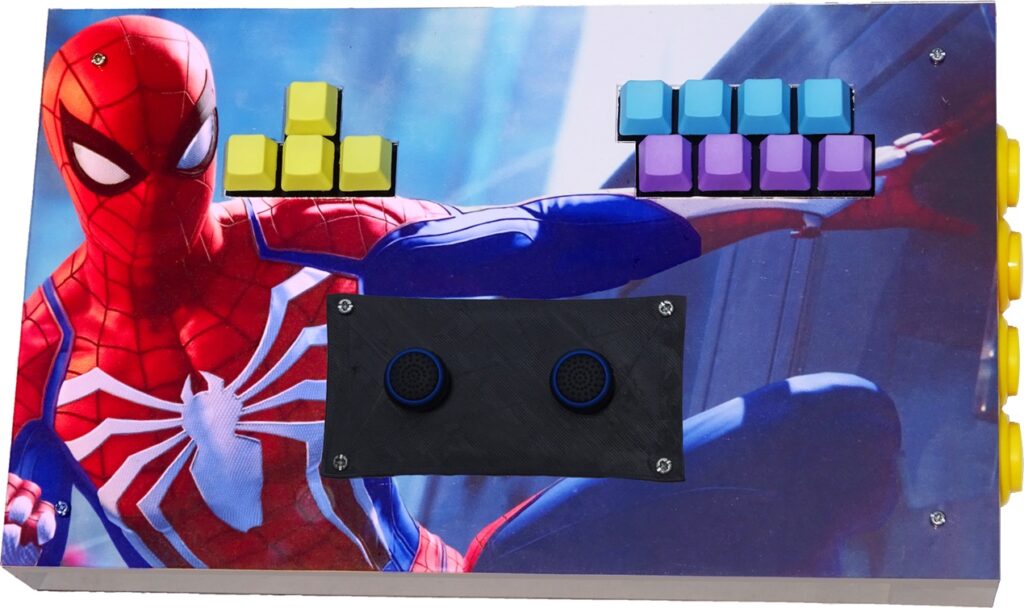 | | |
| --- | --- |
| Price | Fightkeys |
| Compatibility | PS5 / PS4 / PS3 / PSC / XSX / XB1 / X360 / NS / WU / PC |
Introduction
Featured in the Fightkeys: Common Layout are 12 mechanical keyboard buttons. If you choose a Brook printed circuit PCB, there is a switch to change the SOCD type (neutral and last command). Also featured are two analog sticks with L3 and R3 buttons. Present are PS, options, share, and touch buttons.
You can choose a PCB beyond the stock one. Furthermore, you can choose the switches, which include Cherry MX and Kailh Choc ones, and you can even omit the analog sticks entirely. In fact, choosing certain PCBs will prevent you from adding analog sticks to your order.
Finally, you can upload your own custom artwork, which we can create for you through our artists. Please note that there is also a custom layout fightstick-building service.
Performance
Nothing short of excellence was expected from Cherry MX or Kailh Choc switches, so you should have no qualms about the mechanical keys, but because there is a fightstick building service, you can not only opt for Sanwa buttons instead of keys but also add a joystick, which can be Sanwa too.
As Sanwa parts are known for responsivity and durability, you can up the performance of the Fightkeys as much as you want. Perhaps the only major setback of the Fightkeys performance-wise is that the plexiglass can be uncomfortably sharp for your hands and other body parts.
Hardware
For the best experience with the Fightkeys, see if you can opt for a one-piece or metal case to avoid a case that is glued together. A case that is glued together should not hinder the performance as much as it would simply hinder modding.
Appearance
Because of the possibility of adding custom artwork as well as choosing differently colored keys, the Fightkeys can end up looking really beautiful. However, the analog joysticks on the black rectangle in the Common Layout can disrupt any theme you have going on that is not predominantly shades of black.
Conclusion
The Fightkeys are a reasonable option if you want a WASD all-key controller or want to request a different layout.
Quality switches
Sanwa part compatibility
Analog sticks
Diverse layouts
Custom art
Rating
⭐⭐⭐⭐
See Also