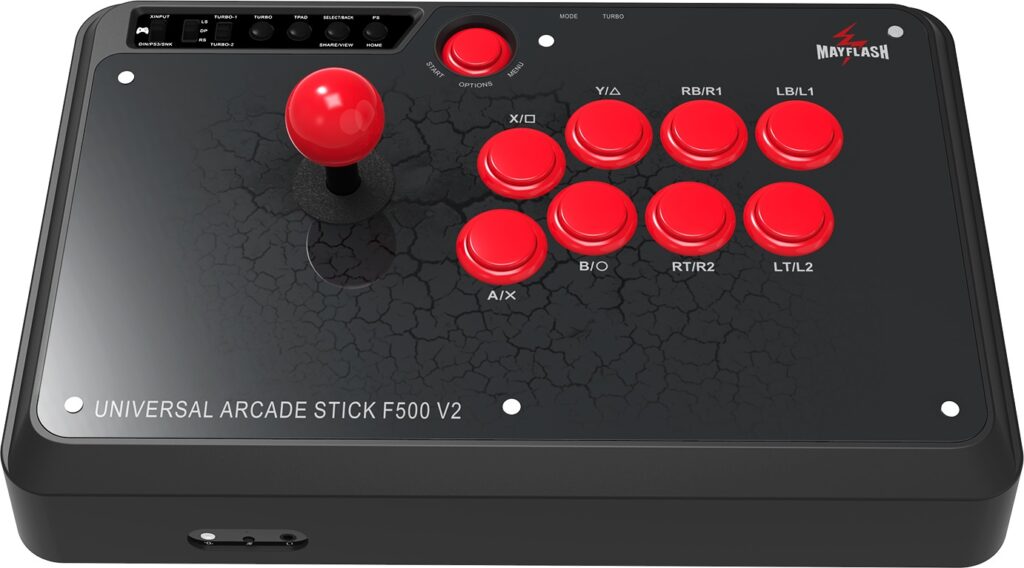 | | |
| --- | --- |
| Price | Amazon |
| Release | September 20, 2016 |
| Compatibility* | PS5 / PS4 / PS3 / XSX / XB1 / X360 / NS / PC / Android |
| Dimensions | 14.2" x 9.1" x 4.7" |
| Cable | 3 m |
| Weight | 6.61 lbs |
*The Magic-S Ultimate is needed for PlayStation 5 compatibility.
Sanwa Edition
Quick Facts
The acrylic panel of the Universal Arcade Stick F500 V2 facilitates customization.
The arcade stick is also compatible with the Neogeo Mini.
This is a clone of the Venom Arcade Stick.
Performance
The arcade stick is bigger than its predecessor, which means more space for comfort. The metallic cover and base increase the weight and overall security. However, the buttons feel a little bit clunky and sound loud. They still operate better than the ones from the predecessor though.
Hardware
Quite surprisingly, an octagonal gate is provided as a stock accessory, and replacing the gates is relatively simple. The same applies to the buttons due to the easy-to-see screws at the bottom. An improvement over the predecessor is that there is finally a headphone jack. However, a native controller is still needed when playing on console.
Do not forget to grab the Magic-S Ultimate for PlayStation 5 compatibility.
Appearance
There is a little bit more nuance to the design this time around. Specifically, it was intended for the artwork to make it seem like the surface has cracked towards the joystick, perhaps trying to look "battle worn". Fortunately, the acrylic panel is easily removable should one add new artwork.
Mayflash provides an acrylic panel, and you can order our custom artwork service. Check out this Sagat art by our artist, Han Gilbert, fitted with the F500 template:
Conclusion
The Mayflash Universal Arcade Stick F500 V2 brings us a flurry of pros and cons that are primarily positive.
Good size
Reasonable weight
Easy modding
Rating
⭐⭐⭐⭐
Links