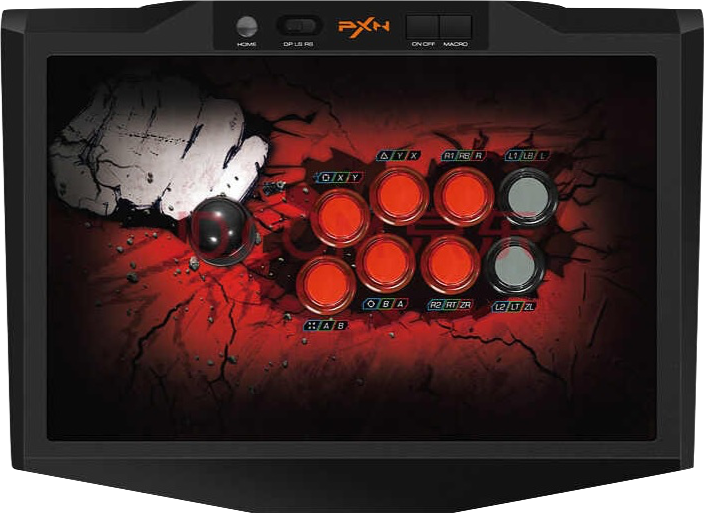 | | |
| --- | --- |
| Price | Amazon1 / Amazon2 |
| Release | October 25, 2019 |
| Compatibility | XSX / XB1 / NS / PS4 / PS3 / PC / Android |
| Dimensions | 15.8" x 11.8" x 2.6 |
| Weight | 8.93 lbs |
Quick Facts
There is LED functionality.
There is a USB-C port.
You will likely need an OTG cable for Android use.
Two extra Sanwa buttons can be found within the case.
Native controllers are needed when playing on consoles.
This is a clone of the Mad Catz Street Fighter V TE2+ and Martial 1.
Performance
Sanwa parts, which the 6 in 1 Arcade Fight Stick has, usually ensure that the performance is up to par with industry standards. When tested on an execution heavy game such as Dragon Ball FighterZ, the majority of the experience was nice and responsive. The foam-like material at the bottom helps with comfort and stability.
Hardware
This arcade stick is both slim and heavy. The cable will quickly detach if someone is about to trip over it. To open up the arcade stick, all you need to do is press one button. There is a handle for carriage, and there is a headphone jack.
Appearance
The artwork is very interesting, and the color scheme is quite refreshing to see. This is a dark and gritty design that could appeal to those who appreciate such a somber style.
If you would like to customize your PXN-X9's artwork, our artist, Carlos Rios, has made artwork with its template before and can do the same for your PXN-X9:
Conclusion
PXN rebrands a well known enclosure in the fightstick industry with interesting artwork that may pique your interest.
Flexible cable
Easy opening
Native controller need
Familiar enclosure
Rating
⭐⭐⭐⭐⭐
Links