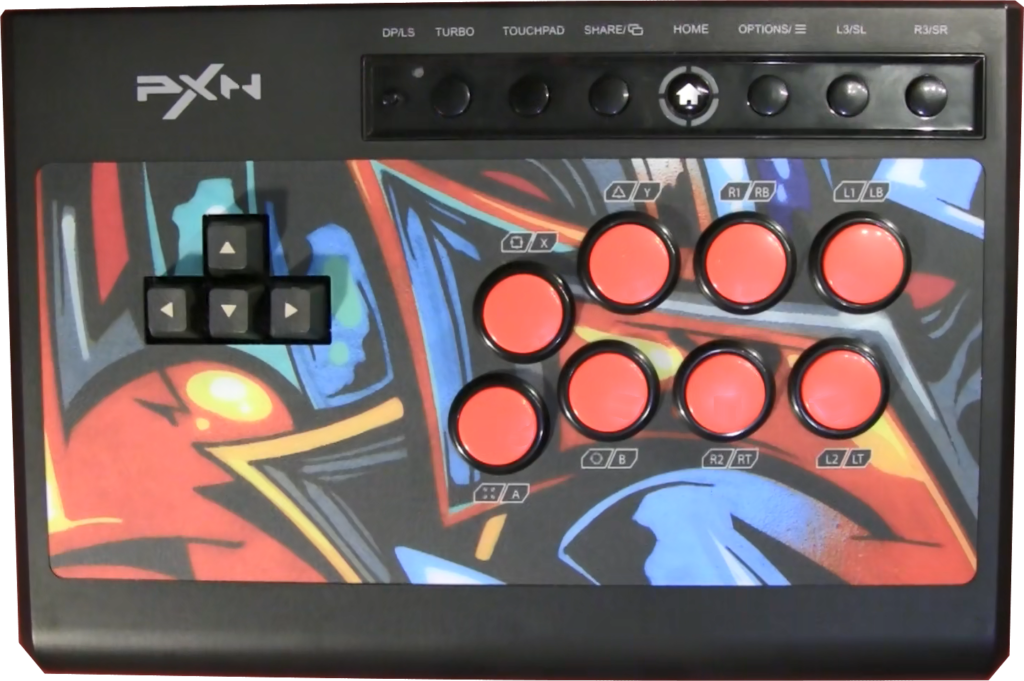 | | |
| --- | --- |
| Price | Amazon / AliExpress |
| Release | August 20, 2021 |
| Compatibility | XSX / XB1 / NS / PS4 / PS3 / PC / Android |
| Dimensions | 13.2″ x 9.1″ x 1.9″ |
| Cable | 2.2 m |
| Weight | 2.12 lbs |
Introduction
PXN debuts a mixbox-style controller called the PXN-X8 Keyboard Arcade Joystick with keys on the left for directions and buttons on the right for attacks.
Performance
The buttons have the Vewlix layout, they feel good, and they sound loud. They have heavy, clicky switches that are soldered. The secondary buttons may need more force than usual to register inputs. There is a turbo function for automated rapid button presses.
The keys sit taller than usual, and they activate about a third of the way down. Luckily, you can easily replace them with your own if you have a different preference. However, you cannot enjoy a slanted layout without extensive modding.
Here are some of the buttons and functions:
Toggle for D-pad & left analog stick
Touchpad button
Turbo
Share
Home
Options
L3/SL & R3/SR buttons for PS & Switch
Although this controller was probably designed for fighting games, it would have been nice to have a right stick or RS option to play other games in which you can rotate the camera. Also, the touchpad is more of a button, but it should get the job done on the PlayStation.
Moving on, the green axis mechanical keypad boasts:
2.0 mm trigger stroke
70 g press strength
50+ million presses
It feels just fine. It is snappy and responsive.
Hardware
The X8 is made of quality plastic that barely flexes. There are four screws for the effective rubber feet and six screws for the case itself. Luckily, you can just unscrew the six case screws to open the controller.
The interior is quite organized. Interestingly, there are small weights taped inside to make the controller heavier. Again, the switches have been soldered on, but the buttons are detachable. Still, there are grooves in the button holes that would make the installation of other buttons harder.
Moving on, the Velcro on the cable is a nice touch. There is a headphone jack, and included in the box as extras are micro USB and USB-C cables.
Now, it is to important to mention that you need to connect the controller of a modern console, such as the Xbox Series X, if you would like to use the X8 on it. Fortunately, PXN provides a detailed manual regarding this subject matter.
Appearance
This controller is a clone of the Krom Kumite. You can get this controller in two artwork options. Besides the black case with colorful artwork complemented by black keys & red buttons, the other option is a white case with white keys & buttons on top of a plain orange background.
If you would like to customize the artwork, check out the work of our artist, Gilbert Han:
Conclusion
The PXN-X8 has to be the best bargain out there for those wanting to get into the mixbox world!
Quality plastic
Replaceable keys
Rubber feet
Velcro cable
Headphone jack
Unscrew to open
Neat interior
Good weight
Artwork options
Keys not slanted
Loud buttons
Not mod friendly
Piggyback system
Rating
⭐⭐⭐⭐⭐
Links