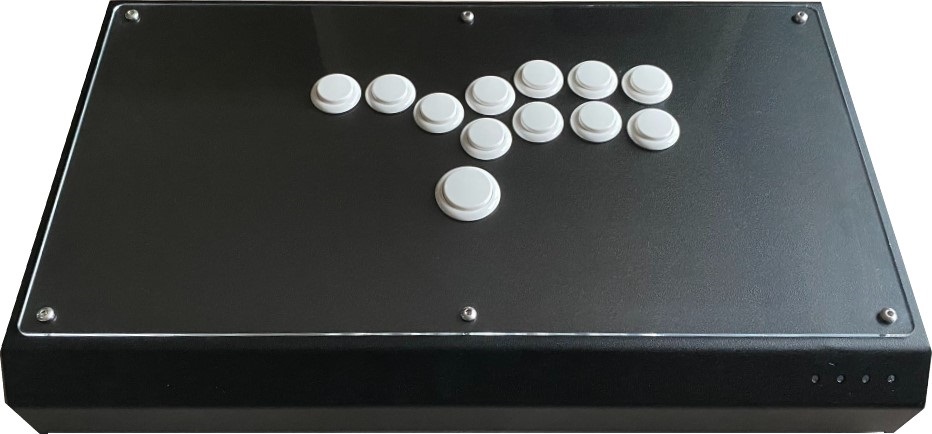 | | |
| --- | --- |
| Compatibility | PS5 / PS4 / PS3 / PSC / PC / XSX / XB1 / X360 / NS / WU |
| Dimensions | 16.5″ x 9.6″ x 2.2″ |
| Cable | 2 m |
| Weight | 4.19 lbs |
More from Blunderbuss Designs
Overview
The One-Zero Mammoth was the last custom case by Blunderbuss Designs, which has shut down but is still in partial operation. The Mammoth was their biggest and strongest yet lightest case.
Featuring an all-aluminum frame, the Mammoth has clear acrylic, a USB 2.0 B panel mount, and came with a USB cable. You could have chosen the color of the enclosure as well as the color of the Bit Bang Gaming LED:
For the acrylic, custom art can be acquired from our service.
Here are some more specs:
2 mm cold-rolled hardened aluminum top panel
2 mm cold-rolled hardened aluminum bottom panel
2 mm clear acrylic cover
3 mm anti-slip mat
Polyester sand-texture powder coating finish
Cutout for eight action buttons (classic Hit Box layout)
Cutout for six auxiliary 24 mm buttons
Detachable USB
Mount for Brook printed circuit board (PCB)
Compatible with Sanwa, Seimitsu, Crown, GamerFinger, and Qanba buttons
See Also