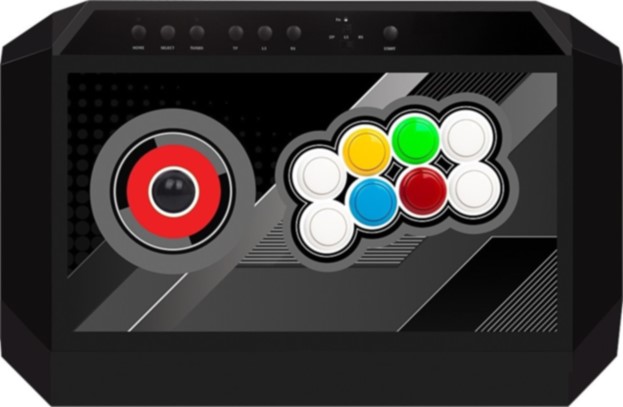 | | |
| --- | --- |
| Price | IST Mall |
| Release | August 18, 2021 |
| Compatibility | PS5 / PS4 / PS3 / PSC / XSX / XB1 / X360 / XB / NS / PC |
| Dimensions | 16.9″ x 11.0″ x 2.8″ |
| Cable | 3 m |
| Weight | 7.61 lbs |
Performance
The default build sports state-of-the-art parts: a Fanta 24GN joystick and Sanwa OBSF-30 buttons in a spacious button layout. Joystick modes such as left stick, right stick, and D-pad can be chosen with a switch. Secondary buttons can be locked to avoid mishaps. The weight of the arcade stick is ideal, so we do not recommend adding an iron plate to artificially make it heavier.
Hardware
The top plate can be opened and closed with one button, which is quite convenient. Inside, you can find a joystick top, buttons, cable storage, and screwdrivers.
Again, this review is based on the default build. IST Mall allows you to customize the arcade stick to your liking. For example, if you are not a fan of Korean joysticks, you can opt for another joystick onsite. The unique button layout may not be your preference as well, and you can also change that.
Here are the other options you can choose:
Buttons
Button color
Added fixed USB terminal
Custom artwork
The Tackyon Edition has less compatibility and is cheaper as a result. The Knee Edition is dedicated to the seasoned Tekken pro from South Korea and has its own Tachyon version. The universal editions are also compatible with the Neogeo Mini and Sega Genesis Mini.
Appearance
IST Mall has outdone itself with the finish of this arcade stick. It has a luxurious finish that is better than the glossy finish of its predecessors. The geometric shapes in the original art are satisfying and not overwhelming, and the Knee Edition does its namesake justice, although it would have been nice for the joystick not to come out of Knee's precious neck…
In any case, custom art is easy to apply, and you may actually be interested in our custom artwork service!
Conclusion
The MakeStick X Prime can be as good as you want it to be based on the customization options you choose.
Highly customizable
Multiple editions
Diverse compatibility
Ideal weight
Easy to open
Tournament lock
Attractive design
Rating
⭐⭐⭐⭐⭐
See Also