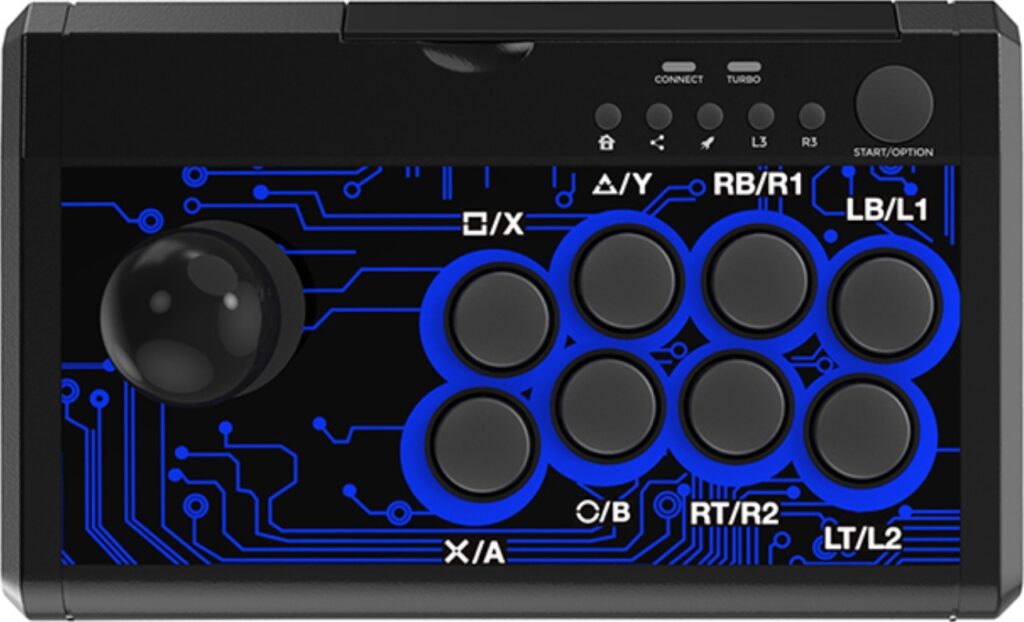 | | |
| --- | --- |
| Price | Amazon |
| Release | November 16, 2019 |
| Compatibility | XSX / XB1 / X360 / NS / PS4 / PS3 / PC / Android |
| Dimensions | 8.4″ x 5.3″ x 2.2″ |
| Cable | 2.4 m |
| Weight | 1.73 lbs |
Quick Facts
Included are a short charging cable and mini wrench.
For the Nintendo Switch, A and B button placements are reversed or swapped
This is a clone of the DOBE TNS-19059 and DOBE TP-19302.
Performance
At first, the circular gated joystick of the 7 in 1 Wired Small Rocking Table TP4-1886 feels too soft because it is not screwed all the way down. Screw it all the way down, and it will likely be hard to remove. In addition, it will remain soft, but not as soft. Although the joystick properly goes back to place if you move it and then let go, diagonal motions do not register well, which are crucial in fighting games as you sometimes need to block while crouching or simply jump forward.
The buttons feel and sound like cheap plastic, an issue that is not present with every other mini arcade stick. At least the rubber pads provide stability even when tested by playing a little bit more aggressively than usual. Otherwise, like most other mini arcade sticks, it gets uncomfortable after a while of play.
Hardware
With the joystick not registering crucial inputs and the buttons feeling like plastic, the hardware department is lackluster. That is despite the fact that the rubber pads do a good job. That is because the rubber pads only stabilize a barely functioning arcade stick on your lap or table.
Appearance
Just like its bigger counterpart, this arcade stick features a primarily black case with some geometric shapes in a contrasting color, which this time happens to be blue.
Conclusion
This mini fightstick's joystick struggles to properly register diagonal motions, and the buttons feel like cheap plastic.
Joystick neutral return
Rubber pad stability
Faulty inputs
Overall aesthetic
Rating
⭐
Links